N.J. Jury Orders Johnson & Johnson to Pay $117 Million Over Cancer Connected to Talcum Powder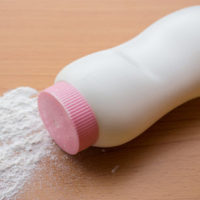 Johnson & Johnson has been under fire in court, and in the press, over allegations that its popular baby powder causes ovarian cancer in women. Baby powder contains talc, a soft mineral that absorbs moisture and oils. Johnson & Johnson has marketed talcum powder since the 19th century as a cosmetic product.
In particular, women use talcum powder as a feminine hygiene product. Over the past few decades, an increasing body of scientific literature has found a connection between this use of talcum powder and the development of ovarian cancer. While this is one of the rarer form of cancers, it is among the most deadly and difficult to identify before it reaches an advanced stage.
J&J Faces New Front in Talcum Powder Litigation: Mesothelioma
But there is another cancer risk associated with the use of talcum powder. Aside from the talc mineral itself, some powders are contaminated with other particles of known carcinogens, notably asbestos. In fact, a New Jersey jury recently held Johnson & Johnson responsible for a man who developed mesothelioma–a potentially fatal type of cancer that affects the heart and lungs–after using the company's iconic talcum powder.
According to a Bloomberg report, the jurors heard evidence that Johnson & Johnson has known for more than 40 years that its talcum powder was contaminated with asbestos and posed "a severe health hazard" to the general public. Although the company denied its current talcum products contained asbestos, the jury sided with the plaintiff. It concluded that Johnson & Johnson's baby powder and "Shower-to-Shower" products contained trace amounts of asbestos–which directly contributed to the development of the plaintiff's mesothelioma–and that the company failed to adequately warn consumers about the cancer risks.
The jury awarded the plaintiff $37 million in compensatory damages. It also ordered Johnson & Johnson to pay an additional $80 million in punitive damages. Punitive damages are meant to express the jury's disapproval for outrageous conduct rather than compensate the plaintiff per personal losses. As one of the plaintiff's attorneys told Bloomberg, the jury's message here was loud and clear: Johnson & Johnson should "stop selling this product because it's dangerous and can kill people."
Johnson & Johnson continues to deny it has done anything it wrong. A spokesman told the press the company plans to appeal the jury's verdict. However, this is not an isolated case: Bloomberg noted there are more than 6,600 talcum powder-related lawsuits still pending against Johnson & Johnson, mostly from women who developed ovarian cancer. And the New Jersey verdict strongly suggests there may be more victims, male and female, who step forward with asbestos-related claims.
Is Your Cancer Related to Talcum Powder Use?
Despite the substantial victory for the plaintiff in the New Jersey case, one should never assume a that a talcum powder lawsuit is easy. When you go up against a well-funded corporate defendant like Johnson & Johnson, you need to properly arm yourself with facts and expert testimony. The experienced Tennessee talcum powder lawsuit attorneys at Fox, Farley, Willis & Burnette can help you build your case. If you or a loved one have developed cancer and have reason to believe talcum powder was responsible, call us today at 866-862-4855 to schedule a free consultation.
Source:
bloomberg.com/news/articles/2018-04-11/j-j-imerys-ordered-to-pay-punitive-80-million-in-talc-case