How Big of a Problem Is Distracted Driving in Tennessee?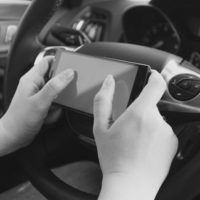 Most car accidents are the result of a driver's error or mistake. In recent years, a leading contributing factor in such driver errors has been so-called distracted driving. This can take many forms, including using your smartphone or talking to people in your car instead of keeping your undivided attention on the road.
Study: 16 Percent of Car Accidents Involve Distracted Drivers
There is a growing body of research and literature on the subject of distracted driving and the costs it creates for society. This past April, independent security review website Safewise published its most recent findings on distracted driving, which included rankings of the "10 deadliest states for crashes." Fortunately, Tennessee did not make that list, although four of its neighbors did: Alabama, Arkansas, Kentucky, and Louisiana.
Safewise reviewed official 2016 accident data maintained by the National Highway Traffic and Safety Administration. Among the findings:
About 6 percent of all fatal crashes in the United States involved a distracted driver.
A total of 562 pedestrians and bicyclists were killed in accidents involving a distracted driver, which represents a 9 percent increase from the previous year of data.
Teenage drivers–those ages 20 and under–represent the largest single age group in fatal distracted driving crashes.
Altogether, Safewise found that 16 percent of all car crashes–whether or not anyone was injured or killed–involved distracted driving. And roughly half of that number (8 percent) involved cellphone use. The percentages were similar when just looking at distracted driving accidents that did cause injuries.
How Effective Is Tennessee's Texting While Driving Ban?
Most states have adopted restrictions on the use of cellphones while driving–also known as "texting while driving" bans–in an effort to reduce distracted driving accidents. Safewise noted 48 of the 50 states, including Tennessee, currently have such a ban in effect for all drivers. Missouri and Arizona have partial bans that only apply to younger drivers, while Montana is the sole state with no restrictions at all.
Of course, these bans widely vary in their enforcement. For example, Tennessee issued 279 tickets per 100,000 licensed drivers for texting while driving. This is significantly better than our neighbors–including the 4 states that made the top-10 deadliest crash list–but it pales in comparison to eastern states like New York, which has issued nearly 12,000 texting-while-driving tickets per 100,000 drivers.
Holding Negligent Drivers Accountable in Tennessee
No matter how strict the state enforces its law, distracted driving will continue to be a problem. And if you or a family member is the victim of a distracted driver, you have the right to seek compensation. Remember, distracted driving is negligent driving. It is no more acceptable to get into an accident while talking on your phone than it is after drinking.
A qualified Clinton car accident attorney can assist you in holding a distracted driver accountable for their actions. Call the offices of Fox, Farley, Willis & Burnette, Attorneys at law, today at 865-457-6440 or contact us online to schedule a free consultation.
Source:
safewise.com/blog/distracted-driving-by-state/