When Is a Tennessee Stadium or Arena Liable for Patron Injuries?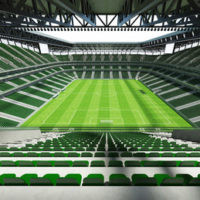 Every year millions of people attend concerts and sporting events throughout Tennessee. As with any business open to the public, the operators of stadiums and arenas have a duty to keep their premises in reasonably safe condition–even with thousands of people trampling through the area in a short period of time. So if a football fan or concertgoer is injured at an event due to shoddy maintenance, the owner or operator may be liable for damages in a personal injury lawsuit.
Split Court Rejects Slip-and-Fall Case
Of course, establishing a venue's liability is not always so simple. Consider this recent decision by a divided three-judge panel of the Tennessee Court of Appeals. The plaintiff in this case attended a heavy metal concert at a popular Nashville venue in 2012. During the show, she left her seat and went to the concourse to purchase some concessions. En route, she slipped and fell on a "pool of liquid."
While it is easy to dismiss a slip-and-fall accident as no big deal, here the plaintiff "sustained injuries to her left knee, which required two surgeries," according to court records. Consequently, the plaintiff filed a premises liability claim against the owner and management company for the arena.
In any premises liability case, a plaintiff must prove the defendant had "actual or constructive notice" of the hazard that caused her injury. Here, the plaintiff conceded the defendants did not have actual knowledge. But she did allege constructive knowledge based on three facts:
Three of the arena's employees were "standing nearby at the time she fell";
Management instructed all of its employees "not to clean up until after the concert was over"; and
There was "at least one other slip-and-fall" accident in "same general area" about 80 minutes before the plaintiff's fall.
The trial judge said this evidence was insufficient and granted summary judgment to the defendants. The plaintiff appealed. As noted above, the Court of Appeals was split.
The majority sided with the trial judge and the defendants. While the majority acknowledged there were "two seemingly random spills in the area" where the plaintiff fell, that did not prove a "pattern of conduct, a recurring incident, or a general or continuing condition" that established the defendants had constructive notice.
The dissenting judge would have allowed the plaintiff to proceed with her lawsuit. He pointed to the "unequivocal" testimony from one of the defendant's former employees that they were expressly instructed not to clean up any spills until the concert ended. But given the other evidence of prior spills, the dissent said there was arguably a "duty of inquiring into and taking appropriate action" to prevent injury to patrons.
Do You Need Help From a Knoxville Personal Injury Attorney?
Cases like this illustrate how closely courts scrutinize evidence–and how different judges may assess the facts. That is why before you bring any kind of personal injury claim, it is critical to work with an experienced Tennessee personal injury lawyer who knows how to properly and research your accident. Contact the offices of Fox, Farley, Willis & Burnette, Attorneys at Law, in Knoxville or Clinton if you have been injured in any type of accident and require immediate legal assistance.
Sources:
tncourts.gov/sites/default/files/katz.wanda_.opn_.pdf
tncourts.gov/sites/default/files/katz.wanda_.separate_opn.pdf