What Happens If You Cannot Identify the Owner of a Truck Involved in a Hit and Run Accident?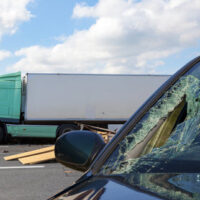 When a truck accident is caused by a commercial vehicle, the owner of that vehicle can be held vicariously liable for the driver's negligence. This sounds simple enough. But establishing ownership of a semi-truck is often more complicated than you might realize. In some cases, a tractor owned by one company may be hauling a trailer owned by someone else. This is why it is important to conduct a thorough investigation of a truck accident before you head into court.
A recent decision from the Tennessee Court of Appeals, Affainie v. Heartland Express Maintenance Services, Inc., provides a helpful illustration. This case involves a September 2015 accident that took place on I-24 in Nashville. The plaintiffs in this case were riding down the interstate in their own vehicle when they were a victim of a "hit-and-run" caused by a semi-truck veering into their lane.
The plaintiffs subsequently sued Heartland Express, whom they alleged own the truck. Both plaintiffs said just after the accident occurred, they saw "Heartland Express" written on the trailer of the vehicle that hit them. Heartland Express said that did not prove it owned the tractor itself. Indeed, the company pointed out that it "regularly interchanged its trailers with other carriers."
Before the trial court, Heartland Express moved for summary judgment, arguing there was no evidence that actually connected it to the tractor itself. In response, one of the plaintiffs amended his earlier deposition testimony, stating he "saw the side of the tractor long enough to see the name Heartland Express." This was too little, too late, for the trial court, which granted the defense motion for summary judgment.
The Court of Appeals agreed with the trial judge that dismissal was appropriate under these circumstances. By making "contradictory statements," the plaintiff had effectively negated his own testimony regarding the apparent ownership of the tractor. And the only other evidence the plaintiffs submitted in support of their case was an inspection report indicating that a Heartland Express-owned tractor was inspected in Georgia two days after the accident. The appeals court said this was not enough to create an "inference" of ownership.
Speak with a Tennessee Semi-Truck Accident Lawyer Today
If you are involved in any type of hit-and-run accident, there are several steps you can take in order to help identify the negligent driver or vehicle owner. First, you should write down any details as soon as possible, including the vehicle's license plate, make and model, and any identifying information on the side of the tractor or trailer. Second, you should always contact local police and have them fill out an official accident report. Third, you identify any other witnesses to the accident and take down their contact information for later reference.
And of course, you should contact an experienced Nashville car accident attorney as soon as possible after the accident to assist you in conducting a proper investigation. Call the offices of Fox, Farley, Willis & Burnette, today to schedule a free consultation with a member of our team.
Source:
tncourts.gov/sites/default/files/affainie.heartlandexpress.opn_.pdf
https://www.foxandfarleylaw.com/recovering-damages-for-evaluation-and-diagnostic-services-following-an-auto-accident/