Vaping Illnesses Prompt New Lawsuits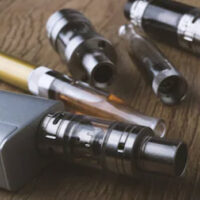 As of late September 2019, there have been over 800 confirmed cases of individuals suffering from illnesses connected to "vaping"–the use of e-cigarette devices–according to the U.S. Centers for Disease Control and Prevention. The CDC said at least 12 people have died as a result of their illnesses. And while the exact cause of these illnesses and deaths remain under investigation by public health authorities, the CDC noted that all of the cases involved patients with a "reported history of e-cigarette use," particularly products containing THC and nicotine.
18-Year-Old Developed "Lung Disease" After Developing Addiction to JUUL E-Cigarettes
Some victims have already begun the legal process of holding e-cigarette manufacturers accountable for putting a dangerous and defective product on the market. One such lawsuit recently filed in an Illinois state court accuses JUUL Labs, Inc., and other defendants of negligently marketing e-cigarettes to minors. The plaintiff in this case is an 18-year-old man recently hospitalized with a vaping-related illness.
The plaintiff's lawsuit alleges that he started using JUUL-branded vaping products when he was 16 years old. The plaintiff said he was specifically attracted to JUUL products because of its "various flavors, including but not limited to, mint, mango, and cucumber." The plaintiff said he purchased JUUL products from one of the co-defendants in this case, a store in Illinois, which "never asked to produce a state issued identification card" to confirm his age, even though Illinois law restricts e-cigarette purchases to individuals 18 or older.
By August 2019, the plaintiff said he was "consuming 1.5 JUUL pods per day" and began "experiencing the chills and became nauseous." This soon led to vomiting. The plaintiff said his doctor initially diagnosed him with a "stomach flu." But as the symptoms persisted–and indeed, grew more severe–the plaintiff was admitted to a local hospital. Eventually, doctors determined the plaintiff had "severe lung disease."
The plaintiff alleges his addiction to JUUL's e-cigarettes caused his lung disease. The lawsuit maintains JUUL "misrepresented" its products as non-addictive and safe. More specifically, the lawsuit alleges JUUL misrepresented the "concentration of nicotine" in its products. That is to say, while JUUL claimed its pods contain about the same amount of nicotine as one pack of traditional cigarettes, the plaintiff alleges the actual nicotine content is "closer to 24 cigarettes or at least 20 percent more than one pack."
The lawsuit seeks a judicial declaration that JUUL and its co-defendants violated Illinois law, in addition to unspecified monetary damages.
Speak with a Clinton Product Liability Attorney Today
The vaping crisis is real and it is continuing to produce victims on a daily basis. We are only just starting to grapple with the medical and legal implications of e-cigarette addiction. If your own child has been affected by this epidemic, you should not hesitate to seek out qualified legal advice from a Clinton dangerous drugs and defective medical device lawyer. Contact the offices of Fox, Farley, Willis & Burnette, today to schedule a free consultation with a member of our legal team.
Source:
chicago.cbslocal.com/2019/09/13/gurnee-teen-sues-juul-gas-stop-for-vaping-damage/
https://www.foxandfarleylaw.com/n-y-parents-file-civil-lawsuit-over-15-year-old-daughters-e-cigarette-addiction/