N.Y. Parents File Civil Lawsuit Over 15-Year-Old Daughter's E-Cigarette Addiction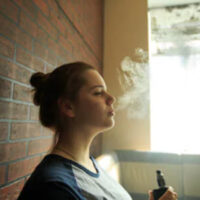 Parents in Tennessee and throughout the country are struggling to protect their children from the latest threat to their health and well-being: vaping. As giant tobacco companies shift their focus from traditional tobacco cigarettes to e-cigarettes, there has been a renewed effort to get children and teenagers hooked on these potentially lethal products. Fortunately, many parents have already taken a stand on behalf of their children by taking legal action.
JUUL, Altria Accused of Fraud and Civil Conspiracy
On September 17, 2019, the parents of a 15-year old girl filed a lawsuit in New York State court against JUUL Labs, one of the most popular e-cigarette manufacturers, and other defendants. The parents allege that despite their daughter's young age, she is already addicted to JUUL's e-cigarettes. The lawsuit notes that co-defendant Altria, the parent company of traditional cigarette manufacturer Philip Morris, currently owns a 35 percent stake in JUUL.
According to the parents' complaint, filed in New York State Supreme Court, their daughter first started "using and purchasing JUUL vaping product when she was 12." As a result, the child current suffers from nicotine addiction "and other and physical and emotional injuries." The parents maintained their daughter did not initially JUUL was an e-cigarette–instead she assumed it was a "USB drive for a computer."
The lawsuit noted this is not an isolated case. Based on figures from the U.S. Centers for Disease Control and Prevention, there are approximately 4.9 million middle and high school students currently using tobacco products. This represents an increase of nearly 1.3 million teenagers in the past two years alone. This increase can be attributed largely to the popularity of e-cigarettes.
The complaint charges JUUL with fraudulently concealing "important safety information on how addictive its e-cigarettes are." It alleges JUUL knew its products "were not safe for non-smokers, and posed a risk of aggravating nicotine addiction in those already addicted to cigarettes."
More to the point, the lawsuit states JUUL "copied Big Tobacco's youth marketing playbook to addict youth to nicotine." For instance, JUUL allegedly relies on "colorful ad campaigns using eye-catching signs and youth-oriented imagery touting themes of being 'cool,' 'carefree,' 'attractive,' 'sexy,' 'pleasureful,' [and] 'popular.'"
In legal terms, the parents' complaint accuses the defendants of engaging in an illegal civil conspiracy under New York law, as well as fraud, strict product liability, and negligence, among other allegations. The lawsuit seeks a permanent injunction against JUUL and its co-defendants to prevent them from "offering, selling, delivering, or in any manner, providing or facilitating others to provide JUUL products to minors" within New York State. The parents also request an unspecified amount of monetary damages.
Speak with a Clinton, TN, Dangerous Products Lawyer Today
This is not the last time we will hear about a lawsuit against an e-cigarette manufacturer. Nor should it be. As evidence mounts about the lethal risk these dangerous and defective products post to our children, companies like JUUL will be made to answer in court. If your own child has suffered due to e-cigarette addiction and you need legal advice from an experienced Clinton dangerous drugs & defective medical device lawyer, contact Fox, Farley, Willis & Burnette, today to schedule a free consultation.
Source:
gothamist.com/news/ny-parents-sue-juul-allegedly-addicting-their-15-year-old-daughter
https://www.foxandfarleylaw.com/wisconsin-officials-investigating-potential-link-between-vaping-teen-lung-disease/