Tennessee State Not Liable for Death of Student During Football Practice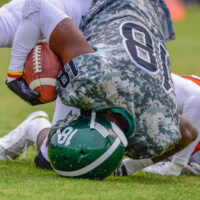 Every parent sends their child off to college hoping they will thrive and go on to succeed in life. So when a child tragically dies while participating in an officially sanctions school activity, the understandably shocked and grieving parents may seek to hold the university responsible via a personal injury lawsuit. Unfortunately, proving negligence is often more difficult than it might seem at first glance.
Commissioner Determines Scar Tissue, Not Trainers' Inaction, Caused Player's Death
For example, the Tennessee Court of Appeals recently upheld a decision by the Tennessee Claims Commission finding that Tennessee State University was not legally responsible for the death of a football player during practice. Wayne Jones III was a cornerback for TSU's football team. On November 7, 2012, Jones attended the team's normal practice. After a period of warm-ups and stretching, the team proceeded to conduct drills. During one such drill, Jones "collapsed faced down to the ground" after catching a ball.
The defensive backs coach supervising the drill called for an athletic trainer when Jones did not get up. A student trainer and the head athletic trainer subsequently attended to Jones. The trainers did not call for the use of a portable defibrillator, even though one was available and the trainers knew how to use it. At this point, neither trainer said they suspected Jones had suffered a heart attack.
But in fact, Jones did suffer a "sudden cardiac arrest." When paramedics arrived at the scene, they observed Jones was "not breathing and had no pulse." The paramedics then used a portable defibrillator. By this point, however, it was too late. The paramedics were unable to revive Jones, and he was pronounced dead at the hospital. The medical examiner later determined the cause of death was a "fatal arrhythmia of the heart" due to scar tissue.
Jones's parents later filed a wrongful death action with the Tennessee Claims Commission. The parents alleged TSU did not have a proper emergency plan in place to deal with their son's sudden cardiac arrest. More to the point, the parents said TSU did not use "all means available" to resuscitate their son.
After a trial, the Commissioner found that TSU was not responsible for Jones's death. The Commissioner noted the arrhythmia was caused by Jones's scar tissue, the cause of which was unknown. As for TSU's actions–or inaction–the Commissioner said there was insufficient evidence that the trainers "violated the standard of care" for their profession or that their failure to take additional action was negligent or constituted the "proximate cause" of Jones's death.
The Court of Appeals agreed. Affirming the Commissioner, the court noted the state produced an expert witness who testified that Jones's scar tissue would likely have made any attempts at resuscitation unsuccessful. Although the parents disputed this testimony, the Court of Appeals said the Commissioner was entitled to rely upon it in making his decision.
Contact a Tennessee Wrongful Death Lawyer Today
Wrongful death claims are never easy to win, particularly when the state is the defendant. That is why if you have lost a loved one, it is important to speak with a qualified Knoxville personal injury attorney as soon as possible. Contact Fox, Farley, Willis & Burnette, today if you need to speak with a lawyer right away.
Source:
tncourts.gov/sites/default/files/jones.wayne_.opn_.pdf
https://www.foxandfarleylaw.com/can-you-sue-the-police-for-falsely-informing-you-of-your-childs-death/