Tennessee Amusement Parks Are No Strangers To Accidents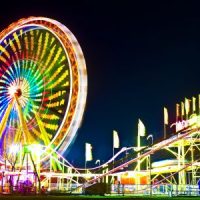 Recently, when a young boy fell off of an amusement park ride in Orlando, Florida, the world took notice of how dangerous amusement park accidents can be. But here in Tennessee, we have also had our fair share of amusement park accidents as well. Sadly, many go under the radar, or get little press, meaning the public often has little idea how dangerous they can be.
Accident in Gatlinburg
Just last year, a rider was thrown from a cart on the Gatlinburg Mountain Coaster, suffering serious injuries to the ankle and head (which are much less serious than amusement parks often can be).
We have written in the past about how state and federal standards are either lax or totally non-existent, and this is no exception: After an investigation of the accident, the Tennessee Department of Labor & Workforce Development said that the devices met "industry standards," a legally undefined term.
This is despite the fact that this is not even the first accident that this coaster has had; in 2016 a woman was injured when she was thrown from the ride after not being properly belted in or restrained.
Accidents at Dollywood
Dollywood also has had its share of incidents. In fact, Dollywood closed one of its rides after the Orlando accident, as one of its rides was made by the same manufacturer. In 2019, passengers were hospitalized after trams rear ended one another inside of the park. Over twenty people were injured in that accident.
Most troubling—and in another example of how amusement parks can be potentially liable to guests—many people complained that they were not certain whether Dollywood had quickly and timely called for emergency services, given the time it took for them to arrive. Dollywood had removed all first aid kits from their trams.
Laws or Not- You Still Can Sue for Injuries
But just because there may not be a lot of federal or state laws that regulate amusement parks doesn't mean that they cannot be sued. Just like any business, they have an obligation to keep their property safe, and to act with care towards their customers.
Many amusement parks don't do what is needed to keep their property safe. For example, although the state does inspect amusement park rides, many amusement parks ignore citations, or things the state finds to be unsafe, and allow the park to operate.
Many parks are operating rides that have not been properly maintained in years. Many, in a rush for profits, may allow people to ride who are too big or too small to safely ride.
And, inspectors only look at the rides themselves—they do not look at the training of the employees, how well the park is supervising employees, or the conditions that employees work in which may be detrimental to people's health and safety.
Call the Clinton amusement park accident lawyers at Fox Farley Willis & Burnette, PLLC, today to help if you were injured on a ride or in an amusement park.
Sources:
abc11.com/gatlinburg-mountain-coaster-roller-accident/10464950/
audacy.com/wwjnewsradio/news/national/dollywood-closes-ride-after-fatal-accident-at-orlando-park
charlotteobserver.com/news/state/north-carolina/article232125372.html
knoxnews.com/story/news/2019/07/02/no-citations-dollywood-tram-crash/1627196001/