Sixth Circuit Dismisses TN Lawsuit Brought by Accident Victims Overcharged for Medical Records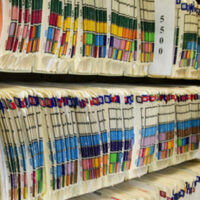 When you file a personal injury lawsuit following an auto accident, you typically need to access your medical records, which can help provide evidence of your injuries. The hospitals and other companies that maintain your medical records may in turn charge a fee for this access. But there are specific federal and state laws governing such fees.
The federal Health Insurance Portability and Accountability Act of 1996 (HIPAA) states medical records companies cannot charge a patient more than a "reasonable, cost-based fee." In addition, the Tennessee Medical Records Act (TMRA) provides that no hospital in the state can charge more than the "reasonable costs for copying and the actual costs of mailing" medical records to a patient.
Judges Disagree Over Whether Patients Can Bring TMRA Claims
So what happens when patients are overcharged for access to their own medical records? This was the question confronted by the U.S. Sixth Circuit Court of Appeals in a recent decision, Faber v. Ciox Health, LLC. This case actually involves two plaintiffs who attempted to file a class action on behalf of all patients allegedly overcharged for access to their medical records.
Both plaintiffs were previously involved in separate, unrelated personal injury lawsuits. In each case, the respective plaintiff's personal injury attorneys requested copies of their medical records from the defendant in this case, Ciox Health, LLC. Ciox is not a hospital or healthcare provider. Rather, it is a "medical-records provider" that contracts with hospitals to manage access to patient medical records.
The plaintiffs' lawsuit argued that Ciox overcharged them for their records in violation of both HIPAA and the TMRA. For instance, one plaintiff said he was presented with over $900 in invoices from Ciox. This included "per page" charges for copying the plaintiff's medical records, despite the fact the records were actually delivered electronically.
Unfortunately, a federal judge ended up dismissing the lawsuit. The plaintiffs then appealed that decision to the Sixth Circuit. But in a December 5, 2019, judgment, the appellate court upheld the dismissal of the two named plaintiffs' complaints, although one judge on the panel believed the majority misinterpreted the relevant provisions of the TMRA.
As the Sixth Circuit explained, the problem here was that the plaintiffs could not sue Ciox under HIPAA, as the federal statute did not "create a private right of action." And while the TMRA does permit individual patients to sue, the majority concluded the state law only applies to "hospitals" and not to "medical-records providers like Ciox."
This left the plaintiffs' claims that Ciox's actions qualified as "negligence" under Tennessee common law. The Sixth Circuit also rejected this argument, stating there was no common-law duty "to not overcharge for medical records."
As noted above, one judge did partially dissent from the Sixth Circuit's decision. Senior Circuit Judge Gilbert S. Merritt, Jr. said the Tennessee Court of Appeals has "explicitly held" that the TMRA "applies to independent copying services like Ciox." The majority explained it was not bound by an intermediate appellate court's interpretation of Tennessee law. But Judge Merritt noted that there was no conflicting authority from the Tennessee Supreme Court on this issue.
Speak with a Tennessee Car Accident Attorney Today
Accessing medical records is just one of many tasks you will need to deal with when filing a personal injury lawsuit. An experienced Clinton car accident lawyer can assist you throughout this process. If you need legal advice or representation following a car accident, contact Fox, Farley, Willis & Burnette, to schedule a consultation today.
Source:
scholar.google.com/scholar_case?case=6385972279917181687
https://www.foxandfarleylaw.com/judge-clears-metro-nashville-of-liability-in-fatal-tow-truck-accident/