Report: Johnson & Johnson Will Pay $1 Billion to Settle Pinnacle Hip Replacement Claims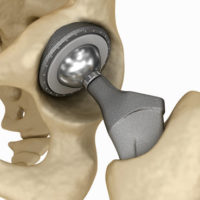 In 2010, Johnson & Johnson's DePuy subsidiary was forced to recall its metal-on-metal Pinnacle hip replacement implants as evidence mounted the devices were defective. Once touted by Johnson & Johnson as the "Rolls Royce" of hip implants, in reality the Pinnacle implants yielded thousands of patient complaints of swelling, loosening, misalignment, bone fractures, and dislocation. Although Johnson & Johnson knew about these problems as far back as 2007, it was slow to pull its defective implants off the market.
Johnson & Johnson is now paying for that delay. On May 7, Bloomberg reported that the company will "pay about $1 billion to resolve most lawsuits" brought by patients injured by the defective hip implants. More precisely, Bloomberg said the company would settle about 95 percent of the 6,000 claims brought by patients who had their implants removed due to defects and are now "unable to walk and in pain." This includes about 3,000 cases that Johnson & Johnson previously agreed to settle for about $400 million earlier this year. However, the settlement did not cover several thousand more lawsuits brought by patients who have not yet had their hip implants removed.
Clearly, the writing was on the wall for Johnson & Johnson after suffering a string of legal setbacks. Last year, a Texas jury ordered the company to pay $1 billion in punitive damages to a single plaintiff. And this past January, Johnson & Johnson reached a separate $120 million settlement with 46 states (including Tennessee) over allegations of defective marketing with respect to the Pinnacle implants. Although the company did not admit liability in connection with that settlement, New York Attorney General Letitia James noted DePuy claimed the Pinnacle implants had a "survivorship of 99.8 percent and 99.9 percent survivorship at five years when the National Joint Registry of England and Wales reported a 2.2 percent 3-year-revision rate in 2009 increasing to a 4.28 percent 5-year-revision rate in 2012."
Call a Tennessee Defective Hip Replacement Attorney If You Need Advice
According to Bloomberg, Johnson & Johnson is not creating a global settlement fund, as is often done in these types of mass torts. Rather, it is "separate deals with plaintiffs' lawyers to resolve their clients' cases." It was therefore unclear what the exact timetable for announcing individual settlements would be. For its part, Johnson & Johnson did not directly confirm or deny Bloomberg's report, stating through a spokesperson that it was engaged in ongoing settlement talks.
And as noted above, the reported settlements will still leave thousands of defective hip replacement cases pending before the courts. These cases involve people who received the defective hip implants and may need to have them removed in the future. There may also be other, unreported cases that have yet to make it to court.
If you are one of those cases, it is important to take prompt legal action to protect your rights. An experienced Clinton product liability attorney can review your case and advise you of your legal options. Contact Fox, Farley, Willis & Burnette, to schedule a free initial consultation today.
Sources:
bloomberg.com/news/articles/2019-05-07/j-j-said-to-pay-about-1-billion-to-resolve-pinnacle-hip-suits
ag.ny.gov/press-release/attorney-general-james-and-45-attorneys-general-nationwide-reach-120-million
https://www.foxandfarleylaw.com/calif-jury-orders-bayer-monsanto-to-pay-2-055-billion-to-couple-who-developed-cancer-after-using-pesticide/