New York Judge Allows Defective Hernia Mesh Lawsuit Against Covidien to Proceed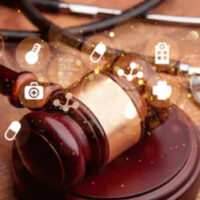 Over the past decade, a number of medical device manufacturers have been forced to recall hernia mesh products after patients experienced a number of serious, life-threatening side effects. In response, patients have brought product liability lawsuits in courts throughout the country. A typical hernia mesh lawsuit raises a number of separate legal claims, including defective design, failure to properly warn patients and their doctors, and basic consumer fraud.
Plaintiff Alleges Injuries Due to Implantation of ProGrip, Parietex Mesh Products
In New York City, a federal judge recently denied one hernia mesh manufacturer's request to dismiss a lawsuit brought by an injured patient and his spouse. The plaintiff is a New York resident who has required underwent multiple hernia repair surgeries starting in 2005. During these procedures, the plaintiff's surgeon used the ProGrip Laparoscopic Self Fixating Mesh and Parietex hernia mesh to "reinforce tissue affected by the hernia," according to the plaintiff's complaint.
The lawsuit alleges that as a result of these "multiple repair surgeries and mesh implantations," he has "experienced and continues to experience abdominal pain." This has affected his ability to carry out basic daily activities and created a number of other complications, such as an increased risk of organ perforation and infection. As a result, the plaintiff seeks damages from Covidien LP, the company that manufactures the ProGrip and Parietex hernia mesh products.
In May 2019, U.S. District Judge Louis L. Stanton dismissed the plaintiff's initial complaint. But as is common practice in personal injury lawsuits, the court granted the plaintiff an opportunity to amend and refile his complaint, which he did in July. Covidien then moved again to dismiss the case. This time, the judge only dismissed the complaint in part, allowing some parts of the plaintiff's case to proceed.
Specifically, the judge refused to dismiss four claims:
that Covidien adopted a "defective design" for its hernia mesh products instead of an "alternative design" that would have been "less dangerous, equally effective and economically feasible";
that with respect to the Parietex hernia mesh, Covidien failed to include "sufficient warnings" regarding the product's likely side effects;
that Covidien's failure to adequately warn the plaintiff constituted "consumer fraud" under New York law; and
that the plaintiff and his surgeon "reasonably relied" on "negligent misrepresentations" made by Covidien about the safety of its hernia mesh products.
It is important to understand that in denying Covidien's motion to dismiss these specific allegations, the judge did not rule on the merits of these claims. Rather, the court allowed the case to proceed to the pre-trial discovery phase, during which time the plaintiff will be able to seek additional evidence from Covidien.
Speak with a Tennessee Defective Hernia Mesh Lawyer Today
If you are in a similar situation to the one described above–i.e., you have suffered serious side effects after receiving hernia mesh during a repair surgery–it is important that you speak with a qualified hernia mesh lawyer as soon as possible to learn more about your possible legal options. Contact Fox, Farley, Willis & Burnette, to schedule a free consultation with a member of our legal team today.
Sources:
courtlistener.com/recap/gov.uscourts.nysd.512810/gov.uscourts.nysd.512810.16.0.pdf
scholar.google.com/scholar_case?case=6741412582198966733
https://www.foxandfarleylaw.com/louisiana-judge-clears-defective-hernia-mesh-lawsuit-to-proceed/