New technologies aimed at preventing the distracted driver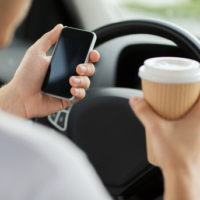 The dangers posed by a distracted driver are recognized as a leading cause of car accidents. Texting and driving can divert a driver's attention from the road and the act of driving just long enough cause an auto accident.
Researchers are becoming increasingly concerned about the driving habits of younger motorists who seem to be focused on their cellphones while trying to perform other tasks such as driving. Car makers have developed new technologies aimed at changing drivers' habits while still allowing them to stay in touch with friends and loved ones. 
Car companies are introducing drivers to new technologies that permit drivers to access the information from their smartphones through their in-car operating systems. One company offers a system that permits a driver to have text messages read to him or her through the vehicle's on-board system. The driver may then use the same system to dictate the response and send it through the vehicle's system without having the driver's hands leave the steering wheel.
Other technologies that are available to motorists include features that allow parents to prevent their children from sending or receiving calls or texts while driving. Another system under development will detect driver eye movement. This system could warn a distracted driver when it detects that the driver's eyes are diverted as when a driver looks toward a text message on a cellphone.
A car collision caused by the negligence of a motorist whose texting and driving distracted the driver long enough to swerve into oncoming traffic or lead to a failure to yield might entitle accident victims to sue for compensation. A Knoxville personal injury attorney might be of help to a party injured in an auto accident caused by a distracted driver in Tennessee.
Source: HuffPost Business, "How Car Companies Are Combatting Texting While Driving," Jenny Che, June 9, 2015