Is a Property Owner Liable for a Malfunctioning Automatic Door?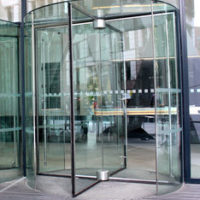 In personal injury claims brought against property owners, a plaintiff must prove the existence of a "dangerous or defective condition" that caused their injury. The condition itself must have been caused or created by the property owner, or the owner must have had actual or constructive notice of the condition. In this context, "constructive" notice means that even if the owner lacked actual knowledge, he or she should have been able to discover the defective condition through the exercise of ordinary care.
Court Dismisses Lawsuit Against Madison Hospital
When there is a latent defect–i.e., one that is hidden or concealed from the owner–it can be difficult to establish constructive knowledge. This is especially the case for property owned by a state or municipal authority. In Tennessee all government agencies are immune from personal injury lawsuits except under certain conditions. One of these exceptions is for "dangerous or defective" conditions in public buildings–but not for latent defects.
Here is an example from a recent Tennessee case that illustrates how courts assess constructive notice and latent defects. The plaintiff here went to pharmacy owned by a public hospital in Madison County to pick up a prescription. She exited the hospital through a set of automatic sliding doors. But as she passed through the doors, her should hit one of the door's panels–which was closing on her unexpectedly–and she fell to the ground, fracturing her thighbone.
The plaintiff sued the municipal authority that owned the hospital. She alleged the malfunctioning door constituted a "dangerous condition," and that the hospital was negligent in not discovering the problem and fixing it prior to her injury. The hospital moved for summary judgment, arguing it lacked actual or constructive notice, and in any event, the plaintiff failed to provide sufficient evidence a dangerous condition existed in the first place.
The courts sided with the hospital. The Tennessee Court of Appeals, upholding a trial judge's earlier ruling, said the hospital conducted a "reasonable inspection" of the door following the plaintiff's accident and determined it was functioning properly. There was also no record of any prior safety incidents involving the door. And as a hospital maintenance employee testified, if there was a problem with the door, it would have "continually" malfunctioned. Given all this, the Court said that any door malfunction that injured the plaintiff was a "latent" defect, for which the hospital could not be held responsible.
A Knoxville Personal Injury Attorney Can Help
Premises liability cases are rarely simple, even when the defendant is an individual or private business. Establishing actual or constructive notice often requires a reconstruction of the scene of the accident. It may be necessary to work with one or more expert witnesses who can testify as to where the defendant failed to notice or correct a hazard.
This is why you need an experienced Tennessee personal injury lawyer to assist you with these types of cases. At the offices of Fox, Farley, Willis & Burnette, Attorneys at Law, we can review your accident and help you determine who may be liable for your injuries. Contact our offices in Knoxville or Clinton today if you would like to schedule a consultation with one of our lawyers.
Source:
http://www.tncourts.gov/sites/default/files/templetonsueannopn.pdf