Indiana Jury Orders Cook Medical to Pay $3 Million Over Defective IVC Filter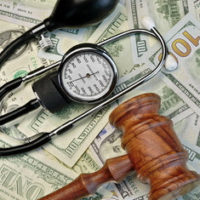 There are currently more than 4,000 lawsuits pending throughout the United States against the manufacturers of IVC filters. These devices are supposed to prevent deadly blood clots. Yet in many cases, dangerous and defective IVC filters have actually done more harm than good, causing serious side effects and even death in some patients.
First "Bellwether" Verdict in Favor of Plaintiff
Many of the pending IVC filter lawsuits are now before U.S. District Judge Tim A. Baker of Indiana. Federal law permits such assignments in "multidistrict litigation" cases where there are hundreds–or thousands–of lawsuits raising "one or more common questions of fact." Rather than try all of the lawsuits simultaneously, the judge selects a number of "bellwether" cases to serve as something of a litmus test. In other words, by trying a handful of cases first, the remaining plaintiffs can get an idea of how strong their own cases are and plan accordingly.
On February 12, 2019, Judge Baker entered a $3 million judgment against Cook Medical in the third bellwether IVC filter case tried before his court.
The plaintiff in this case received an IVC filter manufactured by Cook in 2011. Several months later, the plaintiff testified she discovered a "painful region on the inside of her right thigh," according to the Indianapolis Business Journal. This region, which grew to about 5 inches, contained a piece of protruded metal, which turned out to be a metal strut that had broken off of her IVC filter.
Doctors later determined that a second strut had broken away and "migrated" to an area near the plaintiff's spine. This led to several unsuccessful attempts to remove the remains of the IVC filter. Not surprisingly, the plaintiff blamed Cook for manufacturing a defective filter.
The jury also blamed Cook. It held the plaintiff proved that the design of the filter–specifically the Celect IVC filter–was defective, and that this defect was the "proximate cause" of the plaintiff's injuries. As noted above, the jury awarded $3 million in compensatory damages. However, the jury rejected a separate demand from the plaintiff for punitive damages.
Of course, the jury's verdict is not necessarily the final word. Cook told the press it plans to appeal the verdict. And it is also worth noting that this is the first bellwether case where the plaintiff prevailed–two prior trials before Judge Baker ended in verdicts for the defense.
Contact a Tennessee IVC Filter Lawyer Today
There is still a long ways to go before all of the remaining IVC filter cases against Cook and other manufacturers are resolved. In the meantime, if you have suffered from side effects caused by a potentially defective IVC filter, it is in your best interests to speak with a qualified Tennessee IVC Filter lawyer as soon as possible. Contact the offices of Fox, Farley, Willis & Burnette, Attorneys at Law, to speak with a member of our legal team today about your IVC filter case.
Source:
ibj.com/articles/72401-cook-medical-ordered-to-pay-3m-in-damages-to-patient-hurt-by-blood-filter
https://www.foxandfarleylaw.com/idaho-judge-dismisses-fraudulent-misrepresentation-claim-against-ivc-filter-manufacturer/