How Do I Bring a Claim Under My Uninsured Motorist Policy?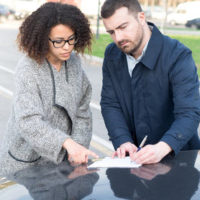 It is always a good idea to purchase uninsured motorist (UM) coverage as part of your auto insurance policy. As the name suggests, UM coverage provides for benefits in the event you are involved in a car accident with an uninsured or underinsured driver. UM coverage is particularly useful when you are the victim of a hit-and-run accident, where the negligent driver is unknown.
Court Dismisses Lawsuit Against Insurer Over Failure to Sue "John Doe" First
Whenever bringing a UM claim, your insurer effectively steps into the role of the uninsured or unknown defendant. This effectively places the insurance company in an adversarial role. In other words, do not assume your insurer will gladly pay your UM claim just because you are a policyholder.
Here is a recent Tennessee Court of Appeals decision illustrating that point. In this case, Fults v. MetLife Auto & Home Insurance Agency, Inc., the plaintiff suffered extensive injuries as the result of a 2015 hit-and-run accident. The plaintiff was never able to identify the negligent driver. He subsequently filed a personal injury lawsuit naming his UM carrier, MetLife, as the defendant.
The plaintiff filed his lawsuit in July 2017. The accident took place in November 2015. Based on this timeline, MetLife moved to dismiss the lawsuit, citing Tennessee's one-year statute of limitations in personal injury cases. MetLife further noted the lawsuit named it–rather than the "John Doe" driver–as the defendant, as required by Tennessee court rules. The trial court agreed with MetLife and granted the motion to dismiss.
On appeal, the plaintiff argued that his claim fell within the six-year statute of limitations applicable in Tennessee to lawsuits brought by a policyholder against his insurance company. The Court of Appeals disagreed. This case was governed by the statute of limitations for personal injury claims, the appeals court held, and that required the plaintiff to name the "John Doe" before serving his insurance company within one year of the accident. As a matter of law, "where the statute of limitations has run against an uninsured motorist, a direct action cannot be maintained against the plaintiff's uninsured motorist carrier."
Speak with a Knoxville Car Accident Lawyer Today
If you are involved in a hit-and-run accident, it is important to seek timely legal advice from an experienced Knoxville car accident lawyer. An attorney can assist you with investigating the accident, in some cases possibly helping to identify a "John Doe" or "Jane Doe" driver. Even when that proves to be impossible, your lawyer can still advise you on the proper procedures for seeking compensation under your uninsured motorist coverage–and if necessary, fighting for your rights in court.
Dealing with insurance companies is often an additional hassle you do not need when you are already struggling to recover from an auto accident. That is why we are here to help. At Fox, Farley, Willis & Burnette, Attorneys at Law, we assist clients throughout Knoxville, Clinton, Gatlinburg, LaFollette, Pigeon Forge, and Sevierville deal with legal issues arising from all types of accidents. Contact us today to schedule a free consultation so we can learn more about your case and how we can best assist you.
Source:
tncourts.gov/sites/default/files/fults.daniel.opn_.pdf
https://www.foxandfarleylaw.com/can-you-sue-another-state-in-tennessee-court-over-a-car-accident/