Florida Judge Rejects New Punitive Damages Claim Against IVC Filter Manufacturer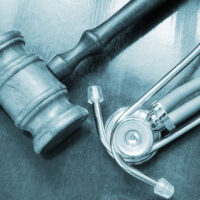 In personal injury cases there may be an award of both compensatory damages and punitive damages. Compensatory damages are designed to help make the injured plaintiff whole, i.e., by compensating them for their medical bills, lost income, pain and suffering, and so forth. Punitive damages, in contrast, are meant to "send a message" and punish the defendant for particular acts of gross negligence that shock the public's conscience.
Punitive damages must be authorized by state law. And every state has different standards governing the assessment of punitive damages. The choice of state law can therefore prove critical to a plaintiff seeking punitive damages, as is often the case with lawsuits involving dangerous or defective drugs and medical devices.
For example, a federal judge in Florida recently rejected a claim for punitive damages in an ongoing lawsuit against IVC filter manufacturer C.R. Bard. In recent years, Bard has faced a number of claims involving defects in the design and manufacture of its IVC filters, which are umbrella-shaped medical devices that are supposed to prevent blood clots from traveling from a patient's legs to their heart or lungs. In 2008, the U.S. Food and Drug Administration approved the use of Bard's G2X IVC filter, which replaced earlier models that were already shown to be defective.
Unfortunately, the G2X filters proved to be just as defective. The plaintiff in the Florida case suffered serious injuries after her G2X filter perforated a major blood vessel. She subsequently sued Bard for negligence and strict products liability. Her lawsuit asked for both compensatory and punitive damages.
But the judge overseeing the case said the plaintiff was not entitled to punitive damages, regardless of whether her underlying claims succeed. As an initial matter, the judge noted the plaintiff and Bard disagreed over whether to apply Arizona or Florida law to this case. As the judge saw it, however, it did not really matter, as the plaintiff could not receive punitive damages under either state's rules.
Under Arizona law, a medical device manufacturer cannot be liable for punitive damages if the defective product was previously cleared by the FDA. There is an exception for cases where a manufacturer intentionally defrauds the FDA to obtain approval. But here, there was no such finding by the FDA.
As for Florida law, the issue there was that another plaintiff previously sought–and obtained–punitive damages against Bard for its G2 IVC filters. While not the exact same model as the G2X filter, the judge here said the difference was not what mattered. What did matter was that the allegations in the earlier case involved the same "course of conduct" by Bard. And Florida only permits one award of punitive damages for the same course of conduct.
Speak with a Tennessee Defective Medical Device Attorney Today
Punitive damages are just one of many complex legal issues that arise in a medical products liability case. An experienced Knoxville IVC filter lawyer can review your particular case and advise you on the best course of action. Contact the offices of Fox, Farley, Willis & Burnette, today to schedule a free consultation with a member of our team.
Source:
scholar.google.com/scholar_case?case=815317752370336311
https://www.foxandfarleylaw.com/aln-faces-ivc-filter-lawsuit-over-failure-to-warn-patient/