Emergency Crews Clear 24,000 Tons of Sugar After Multi-Tractor Trailer Accident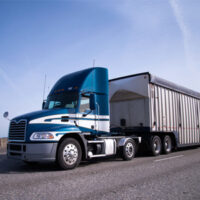 Knoxville, TN (December 14, 2020) Knoxville law enforcement responded to an accident early on the morning of December 14th that resulted in the closure of all lanes of Interstate 40 east shortly past Interstate 640 close to Chilhowee Drive. Law enforcement also reports that 48,000 pounds of powdered sugar were cleaned off of Interstate 40 East. The damaged commercial vehicles have since been towed. While it remains uncertain exactly what caused the crash, the accident involved multiple tractor trailers. Law enforcement has suggested that motorists utilize Cherry Street Exit to Asheville Highway as an alternate route to re-enter Interstate 40 East. The condition of the drivers in the crash remains uncertain.
The AAA Foundation for Traffic Safety reported in 2016 that from 2011 to 2014, roadway debris resulted in more than 200,000 crashes, 500 fatalities, and 39,000 injuries. Over a third of the deaths were due to motorists who swerved to avoid striking debris. Other times, vehicles struck the debris and started off a series of chain-reaction collisions. 
Do Not Hesitate to Speak with an Experienced Truck Accident Lawyer                 
Tractor-trailers play an important role in transporting goods through Tennessee, but unfortunately each year there are many truck accidents that change the lives of the people involved. If you or a loved one has been involved in a tractor-trailer accident and someone else is to blame, you should not hesitate to speak with an experienced attorney. Contact Fox, Farley, Willis & Burnette today and during a free case evaluation we can review your various options to pursue compensation.
Note: This post was written based on available resources, news stories, and online reports about this incident. As is often the case with fast breaking news, there is always the risk that some details are still being shared and uncovered. Please contact us if you notice any information that should be changed or added. Thanks!