Can You Sue a Tennessee Police Officer for Wrongful Death?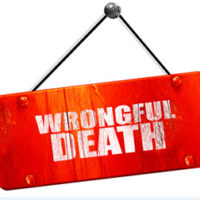 A wrongful death lawsuit is a special type of personal injury claim alleging someone's act of negligence caused the death of a spouse or parent. Wrongful death often involves situations like a car accident caused by a drunk driver or medical malpractice leading to the death of a patient. But wrongful death may also involve serious misconduct by law enforcement.
Did Jail Officials Ignore a Diabetic Man's Medical Needs?
Police officers in Tennessee are entrusted with a great deal of power. This authority is supposed to help protect citizens from criminal acts. But sometimes the police go too far, and when that happens, the victim's families may seek compensation.
For example, the family of a 53-year-old man who died while in the custody of a Bradley County, Tennessee, police captain recently filed a wrongful death lawsuit. According to the family's legal complaint, the victim was a diabetic. In fact, his diabetes was severe enough to require insulin injections three times per day and adherence to a special diet.
The victim was in police custody due to a parole violation. According to the Times Free Press, he owed "more than $1,000 in court fines and probation fees." Bradley County officials allegedly had prior knowledge of the victim's diabetes and his medical needs. The victim's wife said the officer who arrested her husband told her that this information "would get passed on to the jail staff," and they would make sure he received his insulin and ate regularly.
Approximately two days later, the victim was found unconscious and unresponsive in his jail cell. He was taken to a local hospital and pronounced dead about 90 minutes later. A subsequent autopsy revealed the victim "had significantly elevated glucose in his blood" and there was no evidence of food or medication in his stomach.
The victim's next of kin filed the wrongful death lawsuit. The complaint alleges the victim was one of three people to die while in custody of the Bradley County jail during 2016. One person committed suicide "in close proximity to jail staff," while another was found dead after a fight with another inmate. The lawsuit further cites a recent report from the Tennessee Corrections Institute, which oversees standards for all local jails in the state. The report said the Bradley County jail suffered from "overcrowding," "understaffing of jail personnel," and "very vague" security practices.
Get Help From a Knoxville Wrongful Death Lawyer
Winning a wrongful death lawsuit against the police is difficult. Police enjoy "qualified immunity" from personal injury lawsuits arising from their official acts. This means they cannot be held liable unless there is substantial evidence they violated a person's "clearly established" constitutional rights.
In practice, many judges and juries are reluctant to second-guess the police's actions even when a person dies as a result. But that does not mean it is impossible to win a wrongful death judgment or settlement in these cases. It does mean the victim's family needs to work with an experienced Tennessee personal injury attorney who understands the complexity of these kind of cases and will work to see justice is done. If you have lost a loved one due to someone else's negligence and need legal assistance, contact the offices of Fox, Farley, Willis & Burnette, Attorneys at Law, in Clinton or Knoxville today.
Source:
timesfreepress.com/news/local/story/2017/feb/20/family-first-man-die-bradley-county-jail-2016-wants-30-million/413798/