C.R. Bard Faces New Tennessee Lawsuit Over Defective IVC Filters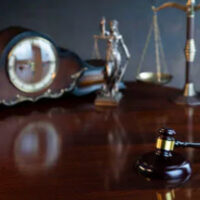 Doctors often implant small medical devices known as IVC filters into a patient's inferior vena cava–a large vein near the heart–to help catch potentially fatal blood clots. These filters are only meant to be a temporary solution, however, and need to be removed once the risk of blood clots is no longer an immediate concern. Indeed, in many cases, the IVC filter itself becomes an even greater risk to the patient's life.
There have been a number of defective medical device lawsuits brought in recent years against the manufacturers of various types of IVC filters. One of the more problematic devices is the G2 Filter System produced by C.R. Bard and its subsidiaries. Based on one study, approximately 25 percent of G2 filters fracture inside the patient's body, which can perforate internal organs and lead to complications including hemorrhages, chest pain, shortness of breath, and death.
On July 1, 2020, a new IVC filter lawsuit was filed against C.R. Bard in Nashville federal court. The plaintiff received a G2 filter during a surgical procedure that took place in January 2011. One year later, the plaintiff went to the hospital, complaining of shortness of breath. A CT examination revealed that the G2 filter had perforated the wall of the plaintiff's vena cava. Unfortunately, the plaintiff's doctors advised it would be too risky to remove the filter. This meant the plaintiff had to undergo a course of expensive medical treatments to monitor the defective filter, which in turn the plaintiff said he had reduced his ability to earn a living.
The plaintiff's lawsuit specifically alleges that Bard was "aware and had knowledge of" the defects in its IVC filter system as early as 2011, the same year the plaintiff received his device. Yet despite knowing of their device's problems, the plaintiff alleges Bard falsely "made representations to physicians, healthcare professionals, and other members of the medical community that the G2 Filter System was safe and effective for retrievable use" in patients. The plaintiff therefore seeks damages for Bard's alleged negligence, failure to warn, defective design, defective manufacturing, breach of both express and implied warranties, and negligent misrepresentation. In addition to compensation for his medical bills and non-economic pain and suffering, the plaintiff has also requested punitive damages under Tennessee law for C.R. Bard's "intentional, willful, knowing, fraudulent, [and] malicious" actions.
Speak with a Tennessee Defective IVC Filter Attorney Today
As with any lawsuit, it is important to remember that a complaint is merely a statement of allegations. The case above remains pending before a federal judge and is unlikely to be decided anytime soon. Indeed, these types of defective medical device cases often take years to resolve. That is why it is important to work with an experienced Tennessee IVC filter lawyer if you are thinking about bringing a similar lawsuit. Contact the offices of Fox, Farley, Willis & Burnette, today if you need to speak with an attorney right away.
Source:
courtlistener.com/recap/gov.uscourts.tnmd.83156/gov.uscourts.tnmd.83156.1.0.pdf
https://www.foxandfarleylaw.com/florida-judge-rejects-new-punitive-damages-claim-against-ivc-filter-manufacturer/