Alabama Family Files Lawsuit Against Tennessee Seller of Allegedly Defective ATV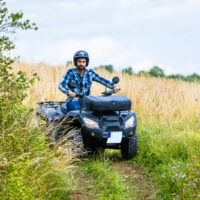 Off-highway vehicles (OHVs) have come under increased scrutiny in recent years due to a number of safety defects. According to a February 2020 report from the Consumer Federation of America (CFA), there have been 110 OHV recalls in the past decade involving 19 different vehicle brands. But the most troubled brand by far is Polaris, which had more than three times the number of OHV recalls (40) then its nearest competitor.
Indeed, a number of product liability lawsuits have been filed around the country related to allegedly defective Polaris vehicles. One such case pending here in Tennessee is Scott v. Abernathy Motorcycle Sales, Inc. The plaintiffs in this case are the Scott family, who live in Alabama.
In May 2016, Wilson Scott purchased a Polaris ATV from one of the defendants, Abernathy Motorcycle, which came equipped with a sound bar. According to Scott, he used the ATV for nearly a year without incident. One day in May 2017, however, Scott opened his garage and saw the Polaris ATV was on fire.
As the lawsuit explained, that fire "quickly spread out of control" and destroyed the Scott family's home. A subsequent investigation found that the culprit was the sound bar that Abernathy had installed in the Polaris ATV. The sound bar, the lawsuit alleged, had faulty wiring, which in turn sparked the fire.
The lawsuit alleges that Abernathy, which is based in Tennessee, was negligent in "[f]ailing to properly install the sound bar so that it was safe for its intended use," as well as not employing "competent and properly trained employees" to perform said installation. The family also accuses Abernathy of violating Alabama laws with respect to both implied and extended warranties. Finally, the lawsuit alleges that Abernathy's actions showed a "reckless and conscious disregard for the rights and safety" of the Scott family. The family seeks an unspecified amount of damages, although their lawsuit notes the fire alone caused more than $1 million in property damage.
Contact a Tennessee Product Liability Lawyer Today
You might be wondering why this lawsuit was filed in a Tennessee federal court if the family lived in Alabama, and that is where the fire took place. The answer is that when you sue someone, you typically do so where they legally reside, which is not necessarily where you live. In this case, Abernathy is a company based in Tennessee. And since the Scott family lives in Alabama, and they are asking for more than $75,000 in damages, they filed their case in federal court, which typically hears lawsuits when there is a "diversity of citizenship" among the parties. Keep in mind, however, that the court will assess the substance of the family's case under the laws of Alabama rather than Tennessee.
It is, in fact, not uncommon for product liability cases to cross state lines in this manner. That is why it is important to work with an experienced Sevierville product liability attorney in bringing these kinds of cases. If you have suffered damages to a defective consumer product and need legal advice, contact the offices of Fox, Farley, Willis & Burnette, today to schedule a free consultation.
Source:
courtlistener.com/docket/16839702/scott-v-abernathy-motorcycle-sales-inc/
https://www.foxandfarleylaw.com/does-tennessee-law-apply-to-product-liability-claims-filed-against-an-out-of-state-company/