Addressing the "Public Health Crisis" of Bicycle Accidents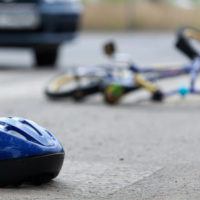 Car accidents are devastating enough when they involve two motor vehicles. But when a car or truck hits a bicycle, the consequences are often catastrophic for the cyclist. And despite decades of efforts to promote safer roads for all vehicles, serious bicycle accidents appear to be on the rise nationally.
Tennessee City Cited for Promoting Bicyclist Safety
Jess Daddio, a writer for the monthly magazine Blue Ridge Outdoors, recently chronicled what she described as the "public health crisis no one is talking about," namely bicycle accidents. Daddio cited statistics from the U.S. Department of Transportation that found 818 bicyclists were killed in collisions with motor vehicles during 2015. This represented an increase of more than 12 percent over the previous year. And beyond fatal crashes, over 45,000 bicyclists were injured in car crashes during that same period.
Many bicycle accidents are the result of distracted driving, e.g. car drivers talking on their cell phones and not paying attention to the road. Motorists are often not looking out for bicyclists to begin with. So if they are texting while driving, they are even more likely to hit someone who is riding a bicycle.
Daddio also pointed out that in many states the legal system works against injured bicyclists. There is still an inherent bias in many quarters against non-motorists using the road. And many states retain what Daddio described as "[u]nfair and archaic legal doctrines" such as contributory negligence. This means that in some states, a bicyclist who is determined by a court to be even 1 percent at fault for the accident can recover nothing from the negligent motorist.
Fortunately, Tennessee abandoned contributory negligence long ago in favor of comparative negligence. Under Tennessee law, a bicyclist can still be partially at fault and recover damages in a personal injury lawsuit. But recovery is only permitted if the victim's apportioned fault is 49 percent or less.
In addition, Daddio pointed to one Tennessee city that is taking a proactive approach to help reduce the number of bicycle accidents. In Chattanooga, the local police department launched a "Safe Biking Initiative" three years ago. The initiative educates both bicyclists and motorists on the rules of the road. More importantly, Chattanooga police make a point of enforcing the "three foot rule." This is a statewide law that designated a "safe passing zone" of three feet for cars and trucks when overtaking a bicycle that is on the road. According to Daddio, Chattanooga's initiatives have led to a 26 percent decrease in local bicycle accidents.
Get Help Following a Tennessee Bicycle Accident
If you are involved in a bicycle accident, you should always contact the police right away. An official police report can go a long way to proving a motorist's negligence in court. Remember, as a bicyclist you have the same rights to the road as anyone driving a car, truck, or motorcycle. If you need help defending those rights from an experienced Knoxville personal injury lawyer, contact the offices of Fox, Farley, Willis & Burnette, Attorneys at Law, at 866-862-4855 today.
Source:
blueridgeoutdoors.com/go-outside/blood-on-the-road/