Woman Escapes Cumberland County Accident Without Injuries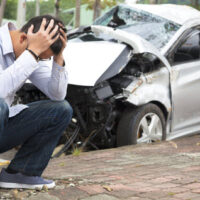 Cumberland County, TN (July 20, 2020) A Cumberland County woman was recently involved in a single vehicle accident early on the afternoon of July 20th. Law enforcement states that the woman's Ford vehicle was traveling north on Lantana Road when she ran off the right side of the road and collided with a utility pole. The driver was wearing a seatbelt at the time of the accident and was not hurt, but was charged with failure to maintain her lane of travel.
The Centers for Disease Control and Prevention report that seat belts reduce the risk of fatalities from a car accident by 45% and reduce a person's risk of serious injury by 50%.
How Seat Belts Protect You in a Car Accident 
There are countless reasons why motorists should remember to wear seatbelts, but some of the most beneficial reasons include the following:
Seat belts decelerate your body
Seat belts disperse the force of a person's body and apply the force to the most durable areas of the body
Seat belts make sure that you remain inside a vehicle during an accident
Seat belts prevent motorists from colliding with dashboards, steering wheels, windshields, or any other parts of a car
Speak with an Experienced Knoxville Car Accident Attorney 
There are many ways that utility pole accidents occur. If you are involved in a utility pole accident and someone else is to blame, you should not hesitate to speak with a knowledgeable attorney. Contact Fox, Farley, Willis & Burnette today to schedule a free case evaluation. 
Note: This post was written based on available resources, news stories, and online reports about this incident. As is often the case with fast breaking news, there is always the risk that some details are still being shared and uncovered. Please contact us if you notice any information that should be changed or added. Thanks!