Woman and Juvenile Injured in Interstate 40 Accident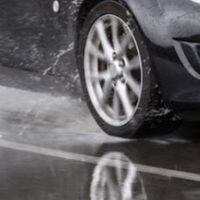 Cumberland County, TN (August 13, 2020) The mixture of heavy rain and speeding resulted in a single vehicle accident on Interstate 40 in Cumberland County on the afternoon of August 13th. Law enforcement reports that a 2012 Dodge Avenger was traveling east at the 315 mile marker when the vehicle hydroplaned, exited the road, and struck a tree. Both the driver as well as a 16-year-old passenger experienced minor injuries from the accident. The crash was only one of seven that occurred on the afternoon of August 13th due to the storms.
The rain results in wet pavement, which decreases vehicle traction. The United States Department of Transportation reports that nearly 5,700 individuals are killed and more than 544,700 people are injured in accidents on wet pavement each year. 
How to Handle Hydroplaning Accidents 
If your vehicle hydroplanes, the most critical piece of advice to remember is to avoid panicking. It also helps to follow some other helpful strategies which include:
Avoid suddenly accelerating or braking.
If you are in a front wheel drive vehicle or a rear wheel drive vehicle with ABC and traction control, when you hydroplane you should look for open space and intend on heading towards the direction. Tap lightly on the gas and steer gently towards this location.
If you are in a rear wheel drive without ABS and traction control, look for open space. Then, ease off the accelerator and steer towards the direction of this open space.

Speak with an Experienced Tennessee Accident Attorney 
If you or a loved one has been injured in a car accident in Knoxville or any other part of Tennessee, one of the best steps that you can take is to speak with a knowledgeable attorney. Contact Fox, Farley, Willis & Burnette today to schedule a free case evaluation.
Note: This post was written based on available resources, news stories, and online reports about this incident. As is often the case with fast breaking news, there is always the risk that some details are still being shared and uncovered. Please contact us if you notice any information that should be changed or added. Thanks!