What Is A Herniated Disc?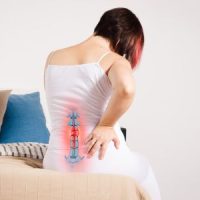 Herniated discs, or injuries to the discs in the back, are common injuries when there is an accident. But what are herniated discs, and why are they so common? Understanding how your back actually works can help you understand how these accidents happen.
The Spinal Column
It may help to understand the anatomy of your spinal column. The spine is made up of a series of bony vertebrae—these are the bones that you traditionally see going up and down the back in skeletal models, and you can probably feel the bony protrusions of your back when you feel your back.
These bones serve a purpose—they protect your delicate and very important spinal nerves. But the problem is that your back has to be flexible, allowing you to bend. How does a spine that is made up of bone on bone still remain bendable? The answers are your discs.
What are Discs?
Your discs are jelly like structures that sit between the vertebrae of your back. These jelly like discs both allow your vertebrae to bend, but also prevent your vertebrae from rubbing against each other. As you can imagine, if bone was grinding against bone, you would have serious problems (not to mention a lot of pain).
When the discs between these vertebrae get pushed out of place, whether by the force of an accident, or just by old age, the disc can push out into the spinal column, and push against a spinal nerve. This can cause pain, and in some cases, loss of full use or function of a part of your body.
Ruptured Discs
In a very serious case, the "jelly" inside the soft disc totally ruptures—it sounds like a silly metaphor, but just imagine a real jelly doughnut, which has been smashed so much the soft interior spurts out.
Now, the "jelly" has left the disc, and ends up putting serious pressure on the spinal column. In very serious cases, the ruptured disc can even threaten paralysis.
How Disc Problems Happen
Certainly, over time, the discs in your back can become "squashed" as time goes on, having to deal with the pressure of your vertebrae and the weight of your body over time. But other times, the force of an accident squeezes the discs to the point they jut out of place, causing a herniation.
Damage to discs in the back can happen in the lower back, but also in the upper back, often called the cervical spine.
Not all back pain is caused by disc problems. Fractured vertebrae, or injuries to the muscles or tissues that surround the neck, can also cause pain, but are generally much less serious than disc injuries.
The treatment for a herniation often depends on the severity of the accident. A mildly bulging disc can often be cured simply with therapy, or perhaps epidural shots. A more serious rupture, may need surgical intervention.
Understanding your injuries is vital to understanding your personal injury case. Call the Clinton personal injury attorneys at Fox Willis Burnette, PLLC, today for help.
Resource:
mayoclinic.org/diseases-conditions/herniated-disk/symptoms-causes/syc-20354095