Victim Seriously Injured While Riding Giant Bicycle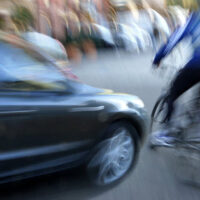 Limestone, TN (July 26, 2020) The Tennessee Highway Patrol is currently investigating an accident that occurred on Old Stage Road as a hit and run. Law enforcement is looking for a blue, older model SUV with its front-right damaged. The hit and run occurred close to Rheatown Road on July 26th. The victim was riding a "giant bicycle" at the time of the collision and has since been air-lifted to Johnson City Medical Center. Additional details about the accident are still pending.
The AAA Foundation for Traffic Safety reports that more than one hit-and-run accident occurs each minute on roads in the United States. As a result, all Tennessee motorists should be aware of the risks presented by these accidents.
Reasons for Hit and Run Accidents 
Given their devastating nature, it is easy to wonder why hit and run accidents occur. Some of the most common reasons for these types of accidents include:
Inadequately insured drivers who flee the scene of the accident because they do not require the state-mandated level of motor vehicle insurance
The driver has an outstanding warrant and is afraid that if they stop at the accident to provide help, law enforcement will arrest them.
People with earlier moving violations have been known to flee the scene of accidents because they want to retain their driver's license and are worried about the consequences of additional points on their license.
Sometimes, drivers panic given the high-stress of the moment and simply drive off.
Retain the Services of a Knoxville Accident Attorney
Hit and runs are one of the most devastating accidents that occur on Tennessee's roads. While victims face injuries as serious as if they were in any other type of accident, the driver responsible for the collision can sometimes be impossible to locate. If you need the help of a skilled attorney, do not hesitate to contact Fox, Farley, Willis & Burnette today to schedule a free case evaluation.
Note: This post was written based on available resources, news stories, and online reports about this incident. As is often the case with fast breaking news, there is always the risk that some details are still being shared and uncovered. Please contact us if you notice any information that should be changed or added. Thanks!