Vehicle Fires Occurs After Knoxville Car Crash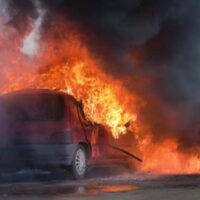 Knoxville, TN (September 14, 2020) The Tennessee Department of Transportation reports that a multiple motor vehicle accident occurred on the eastbound lane of Interstate 40 on the night of September 14th. The accident resulted in a car fire and occurred close to Bridgewater Road around 10 at night. The accident was expected to be cleared by midnight. Additional details about the accident including what caused the fire and whether anyone was injured are still pending.
The National Fire Data Center reports that one in eight fires responded to by fire departments throughout the country is a vehicle fire. This equates to 171,500 highway vehicle fires in the United States each year, which result in 345 deaths and 1,300 injuries.
What To Do If Your Vehicle Catches on Fire Following an Accident 
Remember, there are some critical steps to follow if your vehicle catches on fire following a crash, which include:
Immediately stop your vehicle and turn off its ignition
Get yourself as well as anyone who is traveling with you out of the vehicle
Do not let anyone back into the car to retrieve personal items until it is safe to do so
Keep a distance of at least 100 feet from the vehicle
Contact emergency services
If it's safe and possible do so, inform approaching traffic about the fire
Speak with an Experienced Tennessee Car Crash Lawyer
When vehicle fires occur in Tennessee as the result of vehicle collisions, the damage can be substantial. Burns are a common occurrence from these accidents and result in large medical bills to treat as well as other hardships. If you or a loved one is injured in a Tennessee vehicle fire, you should not hesitate to speak with a skilled attorney. Contact Fox, Farley, Willis & Burnette today to schedule a free case evaluation.
Note: This post was written based on available resources, news stories, and online reports about this incident. As is often the case with fast breaking news, there is always the risk that some details are still being shared and uncovered. Please contact us if you notice any information that should be changed or added. Thanks!