Vehicle Fire Occurs in Rockwood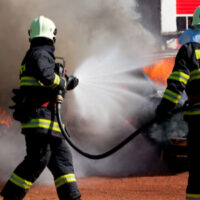 Rockwood, TN (September 15, 2020) Roane County emergency workers in hazmat suits responded to a vehicle fire on September 5th near Rockwood on East Winchester Street. Workers arrived to find a car in flames. Fortunately, no one was in the vehicle and no injuries were reported. Quick response by emergency workers kept the fire from spreading to nearby buildings. The exact cause of the fire as well as who owns the vehicle are still under investigation.
The United States Fire Administration reports that approximately 212,500 highway vehicles fires occurred throughout the country in 2018.
Common Causes of Tennessee Vehicle Fires
Motor vehicles catch on fire for various reasons, but some of the most common causes include:
Car accidents that involve impact to batteries or engines
Design flaws in vehicles, which can result in sparks that lead to fires
Electrical system failure, which might be caused by faulty wiring
Engines that are faulty or defective and as a result overheat
Failure to adequately maintain a vehicle
Fuel system leaks which involve highly flammable liquids like gasoline
Overheating catalytic converters
People who deliberately set cars on fire 
Speak with an Experienced Tennessee Car Crash Lawyer
If your vehicle caught on fire and another party is responsible, you can still find yourself facing substantial damages even if you were not physically injured. Fortunately, as an accident victim, you have a right to pursue compensation and a skilled attorney can help. Contact Fox, Farley, Willis & Burnette today to schedule a free case evaluation.
Note: This post was written based on available resources, news stories, and online reports about this incident. As is often the case with fast breaking news, there is always the risk that some details are still being shared and uncovered. Please contact us if you notice any information that should be changed or added. Thanks!