Vehicle Fire Occurs in Cumberland County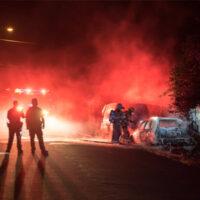 Cumberland County, TN (October 30, 2020) A vehicle fire occurred on October 30th at the 333 westbound mile marker of Interstate 40 in Cumberland County. Fortunately, the driver was able to safely escape the vehicle. Due to the fire, westbound lanes of traffic were temporarily closed.
The National Fire Protection Association has found that vehicle fires represent 16 percent of the 1.3 million fires reported to fire departments in the country each year. These fires result in 15 percent of all civilian fire deaths as well as 10 percent of all reported civilian fire injuries. Surprisingly, Saturday is the peak day for deadly vehicle fires. Vehicle fires are also most common at the time of day when the most vehicles are in use. While there are many causes of vehicle fires, the leading reason why cars catch on fire are mechanical failures as well as electrical malfunctions. Older vehicles represent a large number of fires caused by these factors. This is why it is vital for motorists to make sure that vehicles receive routine inspections and are adequately maintained. Collisions are another one of the most common reasons why vehicles catch on fire. 
Speak with a Tennessee Accident Lawyer
Following Tennessee car crashes, it can be difficult to decide how to respond. One of the best steps that you can take is to promptly speak with an experienced accident attorney. Do not hesitate to schedule a free case evaluation with an attorney at Fox, Farley, Willis & Burnette.
Note: This post was written based on available resources, news stories, and online reports about this incident. As is often the case with fast breaking news, there is always the risk that some details are still being shared and uncovered. Please contact us if you notice any information that should be changed or added. Thanks!