Vehicle Fire Blocks Two Lanes on interstate 40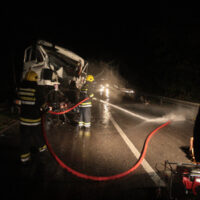 Jefferson County, TN (March 20, 2021) Two of the three westbound lanes of Interstate 40 are blocked in Jefferson County around mile marker 418 close to Dandridge after a vehicle fire was reported around 11 in the morning on March 20th. As a result of the accident, traffic is also moving slowly. It remains uncertain what caused the vehicle fire as well as whether anyone was injured in the event. Motorists are advised to exercise caution while passing through the area.
The United States Fire Administration has found that approximately that one in eight fires responded to by fire departments across the country are highway vehicle fires. Insulation surrounding electrical wiring and flammable liquids in the engine area are the most common items ignited in highway vehicle fires. If you have a vehicle fire, you should promptly stop your car and turn off the ignition. You should then make sure that everyone is outside of the vehicle and avoid letting anyone go back to the vehicle to retrieve anything. You should then move far from the burning vehicle to avoid both flames and toxic fumes. 
Contact a Knowledgeable Tennessee Accident Attorney                 
If you or a loved one has been injured as the result of vehicle fire caused by someone else, you should not hesitate to speak with a knowledgeable accident attorney. At Fox, Farley, Willis & Burnette, we can help accident victims collect the detailed evidence concerning the vehicle fire as well as create strong legal strategies to obtain the compensation they deserve. Contact our law office today for assistance.
Note: This post was written based on available resources, news stories, and online reports about this incident. As is often the case with fast breaking news, there is always the risk that some details are still being shared and uncovered. Please contact us if you notice any information that should be changed or added. Thanks!