Vehicle Destroyed Following Browntown Road Fire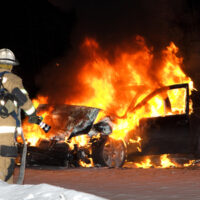 Vehicle Destroyed Following Browntown Road Fire               
Cumberland County, TN (February 27, 2021) Cumberland County firefighters as well as law enforcement on February 27th went to an area close to the 3,000 block of Browntown Road in response to a vehicle fire. After arriving at the scene, crews found a Toyota Tacoma fully engulfed in flames. The driver, who was able to escape the vehicle without harm, told emergency workers that she had smelled smoke and pulled the vehicle over before the fire spread. Additional details into the accident including what caused the fire to start are still pending.
The United States Fire Administration has found that one in eight fires responded to by fire departments across the country is a highway vehicle fire. Additionally, the organization has found that mechanical failure is the leading factor contribution to the ignition of highway fires. Insulation around electrical wiring and flammable liquids in the engine area are the most common causes of highway vehicle fires.
If you notice that your vehicle is on fire, you should stop your car as soon as possible and turn off the ignition. You should then make sure that you and everyone else in the vehicle gets away from the car and does not go back to retrieve any personal items.
Obtain the Assistance of a Skilled Car Accident Lawyer                 
When vehicle fires occur, various parties are often to blame including manufacturers or workers who performed maintenance work on the vehicle. To learn more about your potential options for pursuing compensation, it can help to obtain a free case evaluation with an experienced accident attorney. Contact Fox, Farley, Willis & Burnette so that our lawyers can immediately begin fighting for the results you deserve.
Note: This post was written based on available resources, news stories, and online reports about this incident. As is often the case with fast breaking news, there is always the risk that some details are still being shared and uncovered. Please contact us if you notice any information that should be changed or added. Thanks!