Vehicle Collides with Utility Pole in Knoxville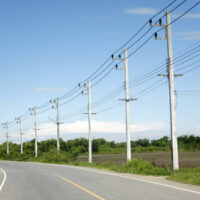 Knoxville, TN (August 20, 2020) Knoxville law enforcement states that on August 20th shortly before 11 p.m., they responded to a car crash that occurred in the 5200 block of McIntyre Road. When law enforcement arrived at the scene, it was discovered that the vehicle's driver had already left. Investigators later determined that the vehicle was traveling west on McIntyre Road when the driver overcorrected while performing a curve and lost control of his vehicle. As a result, the vehicle traveled into a ditch, flipped, and collided with a utility pole. Law enforcement states that there was no substantial damage to the pole. Whether the driver incurred any injuries is not yet known.
Approximately 1,000 fatalities each year occur due to vehicle collisions with utility poles, while another 40% of utility pole accidents leave victims facing serious injuries.
What To Do if Your Vehicle Collides with a Utility Pole
Remember, utility lines and other pieces of electrical equipment in Tennessee are often live and dangerous. As a result, it helps to follow some important strategies:
If a power line falls onto your vehicle and no fire has occurred. The best strategy is to remain in your vehicle until emergency workers arrive. While you are safe inside your vehicle, the vehicle often acts as a path for electric current and you could be electrocuted if you step outside.
If a power line falls on your vehicle and fire occurs. You should try to leave the vehicle. To make sure you exit the vehicle safely, you should jump out of the vehicle while making sure that no part of either your body or clothing makes contact with the car. 
Speak with an Experienced Tennessee Car Crash Lawyer
If you were involved in a utility pole accident caused by someone else's negligence, one of the best steps that you can take is to retain the assistance of an experienced accident attorney. Contact Fox, Farley, Willis & Burnette today to schedule a free case evaluation.
Note: This post was written based on available resources, news stories, and online reports about this incident. As is often the case with fast breaking news, there is always the risk that some details are still being shared and uncovered. Please contact us if you notice any information that should be changed or added. Thanks!