Vehicle Catches Fire on Interstate 40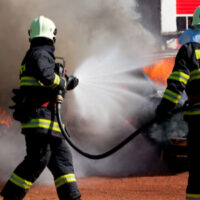 Putnam County, TN (December 16, 2020) The Tennessee Highway Patrol as well as medical workers responded to the scene of a multiple-vehicle accident around 8 a.m. on December 16th at the 293 mile marker of Interstate 40. Law enforcement reports that the driver of a Mercedes sedan was traveling west when the vehicle hydroplaned, collided with a guardrail, and caught on fire. The vehicle then became fully engulfed in flames. The driver and a passenger fortunately escaped the vehicle but experienced minor injuries. Shortly after the accident occurred, the driver of a Kenworth tractor-trailer approached the crash but was not able to stop in time. As a result, the tractor-trailer swerved off the right side of the road and stopped with the vehicle jackknifed against trees. The tractor-trailer driver was then taken by ambulance to Cookeville Regional Medical Center for the treatment of his injuries.
The Federal Highway Administration has found that the majority of weather-related crashes are the result of rain and wet roads. When water gets in front of a vehicle's tire faster than the weight of the vehicle can push it out of the way, hydroplaning can occur.
Do Not Hesitate to Contact an Experienced Tennessee Accident Lawyer
Multiple vehicle crashes present many unique challenges, including how to divide liability among the various drivers involved. If you or a loved one is injured in a Tennessee car crash and several drivers are involved, you should not hesitate to speak with a dedicated personal injury attorney. A lawyer at Fox, Farley, Willis & Burnette will remain committed to fighting for the maximum amount of compensation possible. Contact our law office today for assistance.
Note: This post was written based on available resources, news stories, and online reports about this incident. As is often the case with fast breaking news, there is always the risk that some details are still being shared and uncovered. Please contact us if you notice any information that should be changed or added. Thanks!