Vehicle Accident Occurs in Crossville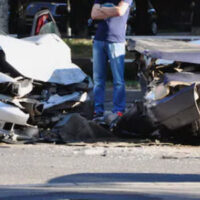 Crossville, TN (September 2, 2020) A vehicle accident occurred on the afternoon of September 2nd that resulted in injuries for one person. Initial reports stated that a pickup truck collided with the back of a tractor trailer while turning off North Main Street to Interstate Driver. The accident resulted in the closure of the right northbound lane for approximately 30 minutes. A more detailed report of the accident is pending.
The National Highway Traffic Safety Administration's research has found that rear-end collisions are the most common type of collision and represent approximately 29 percent of all crashes as well as a significant number of injuries and fatalities each year. 
Ways to Avoid Being Rear Ended
While it will not work in every situation, there are some steps that you can take to avoid being rear-ended by other motorists, which include:
If another driver is following too closely behind you, slow down or merge into another lane so they can go around.
Remember to routinely check your mirrors. If you are approaching a stop sign or traffic light, also make sure to look in the rear-view mirror to make sure that the vehicle behind you is also stopping.
When approaching a stop, gradually put your foot on the brake. This will result in the vehicle behind you also slowing down gradually.
Speak with an Experienced Tennessee Car Accident Attorney
Car accidents can change the lives of victims. If you or your loved ones need the help of an experienced car crash lawyer, do not hesitate to contact Fox, Farley, Willis & Burnette today to schedule a free case evaluation.
Note: This post was written based on available resources, news stories, and online reports about this incident. As is often the case with fast breaking news, there is always the risk that some details are still being shared and uncovered. Please contact us if you notice any information that should be changed or added. Thanks!