Two People Trapped in Middlebrook Pike Rollover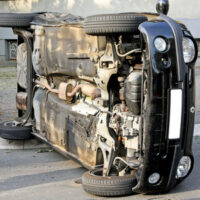 Knoxville, TN (August 29, 2020) A two vehicle crash occurred at 8:38 p.m. on August 29th. When emergency workers arrived at the scene, they found two individuals trapped in a car on its side. These two people were rescued and sent to a nearby medical facility for treatment of minor injuries. Workers commented that if these two individuals were not wearing seatbelts, they would have been much more seriously injured. Law enforcement with the Rural Metro and Knox County Rescue requested that drivers avoid the area while they work on helping people who were trapped by the crash. Details about what led up to the crash are not yet available and details of a further investigation are still pending.
A National Highway Traffic Safety Administration study of the number of lives saved by seat belts found that between 1960 to 2012, seat belts saved 329,715 lives, which is more than all other vehicle safety technologies including airbags and electronic stability control.
Reasons to Wear a Seatbelt
Some of the reasons why you should always make sure to wear a seat belt whether you are driving or riding in a vehicle include:
Airbags alone are not enough to protect people from being seriously injured in car crashes. Instead, a vehicle's safety features are designed to work in tandem.
Seat belts keep you inside your vehicle in case accidents occur. People who do not wear seat belts are at risk of striking a windshield, steering column, or being ejected from their vehicle. 
Speak with an Experienced Car Accident Attorney 
If you or a loved one is injured in a Tennessee car crash, it can be confusing to decide how to best proceed. Fortunately, an experienced car accident attorney can help. Contact Fox, Farley, Willis & Burnette today to schedule a free case evaluation.
Note: This post was written based on available resources, news stories, and online reports about this incident. As is often the case with fast breaking news, there is always the risk that some details are still being shared and uncovered. Please contact us if you notice any information that should be changed or added. Thanks!