Two People Killed in Clinton Highway Car-Motorcycle Accident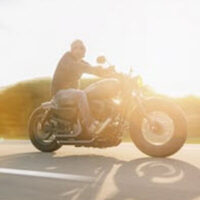 Anderson County, TN (October 1, 2020) Two individuals passed away on October 1st following a crash involving a car and a motorcycle that occurred on Clinton Highway. The accident occurred when the driver of a Honda Accord began turning left onto East Wolf Valley Road and pulled out in front of the motorcyclist. As a result, the vehicles collided and the motorcyclist as well as a passenger were ejected from the motorcycle. Both the motorcycle operator and passenger were later pronounced dead at the scene of the crashes. Charges are also currently pending against the driver, who was wearing a seatbelt. The nature of the charges, however, remains uncertain. Both the motorcycle operator as well as the passenger were wearing helmets. Additional details about the accident including its cause are still under investigation.
The National Highway Traffic Safety Administration reports that helmets saved the lives of 1,630 motorcyclists in 2013. The agency also found that 715 more could have been saved if those motorcyclists had been wearing helmets. Unfortunately, however, wearing a helmet does not entirely remove a motorcyclist's chances of being injured. As a result, motorcyclists should follow various other precautions to make sure that they remain as safe as possible while on the road. 
Contact an Experienced Motorcycle Crash Lawyer               
One of the most common myths that persists about motorcycle accidents is that they are always the fault of the motorcyclist. In reality, many motorcycle accidents are caused by passenger vehicle drivers. If you or a loved one has been impacted by a motorcycle crash and another party is responsible, one of the best steps that you can take is to promptly retain the assistance of an experienced motorcycle accident attorney. Contact Fox, Farley, Willis & Burnette today for assistance.
Note: This post was written based on available resources, news stories, and online reports about this incident. As is often the case with fast breaking news, there is always the risk that some details are still being shared and uncovered. Please contact us if you notice any information that should be changed or added. Thanks!