Trucks Overturn After Two Knoxville Crashes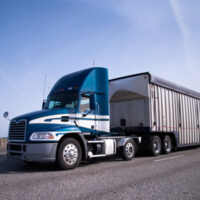 Knoxville, TN (September 28, 2020) Two trucks overturned the morning of September 28th in Knoxville. First, a tractor-trailer overturned in North Knoxville at the intersection of North Broadway and West Fifth Avenue. The second accident occurred in South Knoxville and involved a truck that brought down utility lines at the intersection of Busbee Road and Mark Road. An ambulance transported the driver at the scene of this accident to the University of Tennessee Medical Center for treatment of minor injuries. Power was temporarily out in the area until workers could perform repairs and restore power.
Knoxville's Knox County ranked 8th county in the state of Tennessee in 2019 for total number of overall crashes. Among the 41,478 accidents that occurred in Knox County that year, 8,069 of these accidents resulted in injuries. When trucks rollover, fatalities and injuries are a common occurrence. Rollovers tend to impact five primary areas on the human body: abdomen, head and neck, thorax, lower limbs, and upper limbs. Some of the most common injuries incurred when trucks roll over include broken bones, bruises, cuts, scrapes, traumatic brain injury, and spinal cord injury.
Contact a Knowledgeable Truck Accident Lawyer                 
If someone else played a role in causing your Tennessee truck accident, it helps to remember that you have a right as an accident victim to pursue compensation. During a free case evaluation with an attorney at Fox, Farley, Willis & Burnette, we can review your options to pursue compensation. Contact our law office today for assistance.
Note: This post was written based on available resources, news stories, and online reports about this incident. As is often the case with fast breaking news, there is always the risk that some details are still being shared and uncovered. Please contact us if you notice any information that should be changed or added. Thanks!