Truck Rolls Over on I-40 in Cumberland County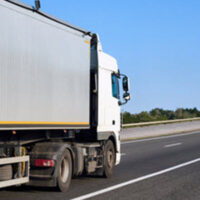 Cumberland County, TN (July 21, 2020) The Tennessee Highway Patrol reports that a freight truck driver was not injured after his vehicle overturned on I-40 in Cumberland County. The accident occurred on July 21 between 3 and 4 a.m. on the eastbound ramp of the Plateau Road exit at mile marker 331. The trailer was pulling double trailers, which make trucks much less stable than other commercial vehicles and which present a higher risk of vehicle rollovers.
Ways to Reduce the Risk of Truck Rollovers
While the driver in this situation might not have gotten injured, the Insurance Institute for Highway Safety reports that 45% of large truck occupant deaths in 2018 occurred when vehicles rolled over. Some of the steps and information that you can keep in mind to reduce the risk of truck rollovers include the following:
Steer gently and travel slowly when maneuvering corners. This driving pattern should be used in combination with looking far ahead on the road so you can quickly spot any hazards that might arise suddenly.
There are more vital parts to keep truck drivers safe when double and triple trailers are involved. As a result, you should make sure to check all of these features cautiously before driving.
Double and triple trailers occupy more space than other commercial vehicles and cannot be turned or stopped suddenly. As a result, you should make sure to use more following distance when traveling behind other motorists.
Speak with a Skilled Tennessee Accident Lawyer 
Rollovers can cause serious injuries to drivers and other motorists on the road. If you or a loved one has been harmed by a vehicle rollover, you should not hesitate to speak with a knowledgeable attorney. Contact Fox, Farley, Willis & Burnette today to schedule a free case evaluation.
Note: This post was written based on available resources, news stories, and online reports about this incident. As is often the case with fast breaking news, there is always the risk that some details are still being shared and uncovered. Please contact us if you notice any information that should be changed or added. Thanks!