Truck Catches Fire on Interstate 40 in Knoxville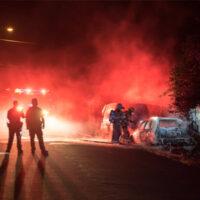 Knoxville, TN (December 9, 2020) Donated blood that was being transported by a blood bank was lost on December 9th when the vehicle caught fire. The accident occurred along Interstate 40 east close to the Gallaher View Road exit. MEDIC Regional Blood Center has reported that the involved truck was one of the company's three mobile units. Three MEDIC staff members who were in the vehicle at the time of accident were all fortunately able to escape. Four units of the blood were lost. Fortunately, the crew had finished a delivery at the time the fire occurred, which meant that the bulk of the products had already been dropped off at the lab. In a statement released on the night of December 9th, MEDIC expressed gratitude that all staff members were safe and uninjured. The exact cause of the fire remains uncertain.
The United States Fire Administration has found that from the years 2014 to 2016, approximately 171,500 highway vehicle fires occurred in the country that resulted in $1.1 billion in property loss.
Speak with an Experienced Tennessee Personal Injury Attorney                 
If you or a loved one has been injured in a Tennessee car crash, you should not hesitate to speak with a compassionate Tennessee car crash attorney. From start to finish, a dedicated attorney at Fox, Farley, Willis & Burnette will remain committed to fighting for the results you deserve. Contact our law office today and during a free case evaluation we can discuss your available options to pursue compensation.
Note: This post was written based on available resources, news stories, and online reports about this incident. As is often the case with fast breaking news, there is always the risk that some details are still being shared and uncovered. Please contact us if you notice any information that should be changed or added. Thanks!