Trailer Turns Over on Interstate 40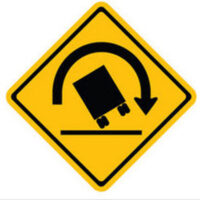 Roane County, Tn (July 26, 2020) A single vehicle accident occurred on Interstate 40 in Roane County that resulted in at least one motorist getting injured. Highway Patrol reports that a Yukon was traveling west near the 352 mile marker pulling a trailer when the motorist felt the trailer shake and lost control of the vehicle. As a result, the trailer driver's vehicle left the road and overturned in the median of Interstate 40. The trailer as well as the vehicle pulling it overturned. A passenger in the vehicle was injured.
Since 2012, the National Highway Traffic Safety Administration has required all vehicle manufacturers to contain electronic stability controls, but sadly a significant number of loss of control accidents still occur each year on Tennessee's roads.
5 Ways SUV Drivers Can Reduce the Risk of Rollovers
There are some steps that a person can take if they drive a Yukon, Ford Explorer, or other type of sports utility vehicle to reduce the risk of ending up in a rollover accident:
Be sure to lower your speed when cornering and navigating adverse weather conditions like rain and snow. Even if the wheels of an SUV come off the road slightly, there is still a risk of rollover accidents
Whether talking on the phone, putting on makeup, or playing with the radio, eliminate all distractions before getting into your SUV.
If you plan on going for a long trip or it's been a while since you last checked, examine the tire pressure on the SUV. Rollovers can occur when a tire suddenly blows.
Learn all you can about what makes SUVs unique and what the safest way to handle these vehicles is.
If you're attaching a trailer to an SUV, make sure that the load in the trailer is both secured and distributed evenly throughout the trailer.
Contact a Tennessee Personal Injury Lawyer
Rollovers are one of the most devastating types of accidents that occur on Tennessee's roads. Contact Fox, Farley, Willis & Burnette today to schedule a free case evaluation.
Note: This post was written based on available resources, news stories, and online reports about this incident. As is often the case with fast breaking news, there is always the risk that some details are still being shared and uncovered. Please contact us if you notice any information that should be changed or added. Thanks!