Tractor-Trailer Spills Liquid Fertilizer in Knoxville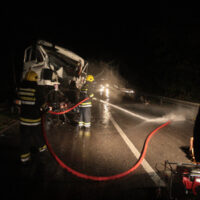 Knoxville, TN (December 17, 2020) The ramp from Interstate 640 West to Interstate 75 north was closed on the morning of December 17th following a tractor-trailer crash. The Tennessee Department of Transportation reports that as a result of the accident, several hundred gallons of liquid fertilizer were spilled onto the road. It still remains uncertain whether anyone was injured or killed in the crash, what caused the fertilizer to spill, and when the road will be reopened.
The Federal Motor Carrier Safety Administration has found that collisions with vehicles in transport was the first harmful event to occur in 74 percent of deadly large truck accidents, 84 percent of injury crashes involving large trucks, and 78 percent of property damage only crashes involving large trucks. Whether it's fertilizer or any other type of cargo, truck cargo spills occur suddenly and often leave the surrounding motorists unsure about how to exactly proceed. As a result, cargo can cause passenger vehicle drivers to crash into the cargo or swerve off the road, which can in turn lead to chain reaction accidents.
Contact a Compassionate Tennessee Truck Accident Attorney                 
Due to their size and weight, when Tennessee truck accidents occur, the results are almost always devastating. If you or a loved one is injured in a truck crash, it is common to end up overwhelmed and uncertain about how to pursue compensation. Fortunately, a dedicated Tennessee truck accident attorney will remain committed to fighting for the results you deserve. Contact Fox, Farley, Willis & Burnette today. During a free case evaluation, we can discuss your available options to pursue compensation.
Note: This post was written based on available resources, news stories, and online reports about this incident. As is often the case with fast breaking news, there is always the risk that some details are still being shared and uncovered. Please contact us if you notice any information that should be changed or added. Thanks!