Tractor Trailer Overturns on Interstate 40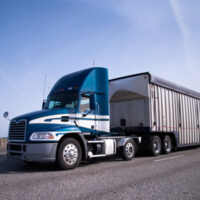 Wilson County, TN (August 23, 2020) One individual was transported to a medical facility following an accident the afternoon of August 23rd that left a tractor trailer overturned on Interstate 40. The driver of a Nissan Altima was trying to merge onto Interstate 40 at mile marker 238 when she collided with the back of a Freight Liner TT. Following the collision, the Nissan's driver maneuvered her vehicle off the road's left side. Fortunately, the Nissan driver was not injured in the collision. The truck's driver left the right side of the road and the truck that he was operating overturned. The truck driver is reported to have incurred minor injuries in the accident.
While many people believe that more rollovers occur during the darkness of night or when the visibility of drivers is impaired, the Federal Motor Carrier Safety Administration has found that 2/3rds of cargo truck rollovers occur during the day.
Tips on Reducing the Risk of Truck Rollovers
While they may not eliminate the risk of vehicle rollovers, truck drivers can drastically reduce their chances of ending up in a rollover accident by following some helpful advice:
Keep your truck in good condition, which means routine maintenance. If someone else is tasked with maintaining your truck, make sure to fully inspect the vehicle each time before driving.
Remain alert to surrounding conditions. This means eliminating any distractions while driving as well as making sure to follow the Federal Motor Carrier Safety Administration's hours of service regulations.
Make sure that your load is properly secured. Also be aware that sudden shifts in loads can provide a disruption in weight great enough to cause a rollover.
Retain the Services of a Skilled Tennessee Car Crash Lawyer
Truck accidents in Tennessee often result in serious injuries or fatalities. If you or a loved one has been injured in a truck accident, an attorney at Fox, Farley, Willis & Burnette can help. Contact our law office today to schedule a free case evaluation.
Note: This post was written based on available resources, news stories, and online reports about this incident. As is often the case with fast breaking news, there is always the risk that some details are still being shared and uncovered. Please contact us if you notice any information that should be changed or added. Thanks!