Tractor-Trailer Drivers Avoid Injury on Interstate 40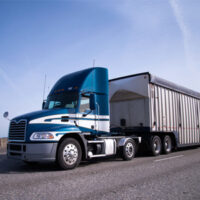 Loudon County, TN (January 2 3, 2021) A tractor-trailer driver recently avoided injury following a vehicle crash that occurred at the 364 mile marker on Interstate 40 in Loudon County. The highway patrol says that the driver of a Peterbilt was traveling east when he ran off the road into the median and the vehicle turned onto its driver's side. The driver was fortunately wearing a seatbelt at the time of the crash. Traffic was temporarily delayed in the area for several hours as a result of the crash.
The Insurance Institute of Highway Safety has found that most fatalities associated with large truck crashes are the occupants of passenger vehicles. The primary reason why so many passenger vehicle occupants are killed is that these individuals are particularly vulnerable to the resulting damage. Trucks often weigh 20-30 times as much as passenger vehicles and have much greater ground clearance, which means that a risk exists of the smaller vehicle underriding the truck. The ability to brake suddenly for crashes is also an issue with many truck crashes. Loaded tractor-trailers often take 20-40 percent greater distance to stop than passenger vehicles and even more when roads are wet or slippery. 
Speak with a Knowledgeable Tennessee Truck Accident Attorney                
Given their substantial size and weight, when truck accidents occur involving tractor-trailers, the results are often devastating. If you or a loved one has been impacted by a Tennessee truck accident, you should not hesitate to speak with an experienced attorney. Contact Fox, Farley, Willis & Burnette today to schedule a free case evaluation.
Note: This post was written based on available resources, news stories, and online reports about this incident. As is often the case with fast breaking news, there is always the risk that some details are still being shared and uncovered. Please contact us if you notice any information that should be changed or added. Thanks!