Tractor-Trailer Crash on Interstate 40 Closes Westbound Lanes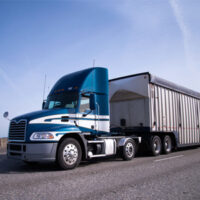 Lebanon, TN (February 16, 2021) The Tennessee Department of Transportation reports that one tractor-trailer crash closed the westbound lanes of Interstate 40 close to Lebanon around 6:30 in the morning at mile marker 240. This accident is one of at least five crashes involving tractor-trailers that have delayed traffic along Interstate 40 recently in Wilson County. Motorists are advised to exercise caution while passing through the area.
The Insurance Institute of Highway Safety has found that many of the deaths involved in large truck crashes are those of nearby passenger vehicles. This is because due to their substantial size and weight, trucks can substantially damage smaller vehicles.
Fortunately, motorists can follow several safety strategies to avoid tractor-trailer crashes. For one, motorists should understand that there are several areas around tractor-trailers to avoid. These blind spots can make smaller vehicle drivers disappear in the line of sight of truck drivers. Two blind spots are located at the sides of tractor-trailers. While smaller vehicles also have blind spots, these areas are much bigger on tractor-trailers.
Speak with an Experienced Tennesee Tractor-Trailer Accident Attorney                 
When Tennessee tractor-trailer crashes, the results are often devastating. If you or a loved one has been injured in a Tennessee tractor-trailer accident, one of the first things that you should do is to speak with an experienced Tennessee personal injury lawyer. Contact Fox, Farley, Willis & Burnette today and during a free case evaluation an attorney can review your available options to pursue compensation.
Note: This post was written based on available resources, news stories, and online reports about this incident. As is often the case with fast breaking news, there is always the risk that some details are still being shared and uncovered. Please contact us if you notice any information that should be changed or added. Thanks!