Tractor-Trailer Accident in Cumberland County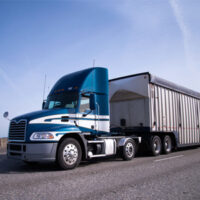 Cumberland County, TN (October 28, 2020) A tractor-trailer accident occurred on October 28th on Interstate 40 in Cumberland Country that left traffic delayed for several hours. The Tennessee Highway Patrol reports that the driver of a 2018 Freightliner was traveling west at mile marker 305 when his vehicle left the road and rolled over onto its driver's side before a small group of trees. Due to the accident, both the driver and his passenger were injured and transported to Cumberland Medical Center for care.
The Insurance Institute for Highway Safety has found that seventy-four percent of deaths in large truck accidents in 2018 were in crashes involving tractor-trailers. In the case of tractor-trailer accidents, braking is often a factor. This is because loaded tractor-trailers often take 20 to 40 percent greater distance than passenger vehicles to stop. This distance is even greater on wet and slippery roads or when tractor-trailers are equipped with poorly maintained brakes. The stress that trucking companies place on drivers to meet narrow deadlines also means that driver fatigue is also a common factor in tractor-trailer accidents. While federal hours-of-service regulations limit how much time drivers can spend behind the wheel, not all trucking companies follow these requirements.
Speak with an Experienced Car Crash Lawyer                 
It's easy to feel powerless after Tennessee car crashes occur, but it is important to remember in the aftermath of an accident that you have several important rights. One of these rights includes the ability to hold the person who caused your accident accountable for the resulting damages. A lawyer can help you assert this right. Schedule a free case evaluation with an attorney atFox, Farley, Willis & Burnette today.
Note: This post was written based on available resources, news stories, and online reports about this incident. As is often the case with fast breaking news, there is always the risk that some details are still being shared and uncovered. Please contact us if you notice any information that should be changed or added. Thanks!