Three Seriously Injured After Multiple Vehicle Accident on I-40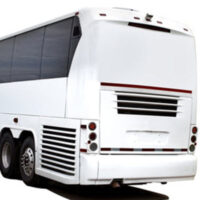 Jefferson County, TN (August 4, 2020) Medical workers and law enforcement responded to a multiple vehicle accident on Interstate 40 on the night of August 4th. The Tennessee Highway Patrol reports that due to the accident, a bus driver was airlifted to the University of Tennessee Medical Center. Two other people who were involved in the accident were also transported by ambulance to the University of Tennessee Medical Center.
In total, 15 vehicles were involved in an accident, leading to six other accidents along Interstate 40 between the 412 and 417 mile marker, which is 10 miles away from where a multiple vehicle accident occurred in Sevier County on August 1st. Law enforcement reports that traffic on Interstate 40 was stopped due to a previous accident. The bus driver approached the accident, but was not able to stop. Instead, the driver sideswiped the vehicle in front of him as well as another vehicle before the bus went off the road.
Researchers at the University of Michigan's Transportation Research Institute have found that, on average, approximately 63,000 buses are involved in accidents each resulting in 14,000 injuries and 325 fatalities.
Common Types of Bus Accidents 
Some of the most common bus accidents that are known to occur in Tennessee include:
Aggressive driving from surrounding drivers
Bus drivers who drive while under the influence
Bus drivers who fail to check blind spots
Bus drivers who make too wide turns
Bus drivers who cannot respond to road debris or stopped vehicles in time
Distracted driving by bus drivers
Fatigued bus drivers, which might include bus drivers who violate hours of service requirements
Fault bus equipment, or buses that are not properly maintained
Speeding by the bus driver, in an attempt to stay on schedule
Unruly passengers on the bus
Speak with a Knoxville Accident Lawyer 
Following bus accidents, the results are often devastating. If you or a loved one needs the assistance of a skilled accident attorney, do not hesitate to contact Fox, Farley, Willis & Burnette today.
Note: This post was written based on available resources, news stories, and online reports about this incident. As is often the case with fast breaking news, there is always the risk that some details are still being shared and uncovered. Please contact us if you notice any information that should be changed or added. Thanks!