Three People Injured in Chattanooga Crash Involving  Ambulance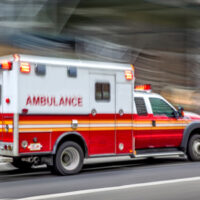 Chattanooga, TN (February 8, 2021) The Tennessee Highway Patrol reports that a young woman and two children were rushed to the hospital following a crash that occurred on February 8th involving an ambulance that was making an emergency call. The Tennessee Highway Patrol states that the accident occurred shortly after 5:30 at night close to the intersection of Highway 11 and County Road 114. The Tennessee Highway Patrol reports that the driver of a Pontiac collided with an ambulance that was transporting a patient at the time. The report states that the ambulance was running its emergency lights and siren at the time of the collision. The woman and two children in her vehicle were rushed to the hospital. The condition of the woman and the children remains uncertain.
While we trust ambulances to safely transport victims, they're sometimes involved in accidents. The National Safety Council has found that when ambulances respond to emergency calls without using lights or sirens, the crash rate is 4.6 out of every 100,000 responses. The crash rate increases to 5.5 when either lights or sirens are used. The risk of an accident is even greater if an ambulance is transporting a victim.
Speak with an Experienced Accident Attorney
If you or a loved one has been injured in a crash involving an ambulance or any other type of vehicle, you should not hesitate to speak with an experienced personal injury lawyer. Contact Fox, Farley, Willis & Burnette today to schedule a free case evaluation.
Note: This post was written based on available resources, news stories, and online reports about this incident. As is often the case with fast breaking news, there is always the risk that some details are still being shared and uncovered. Please contact us if you notice any information that should be changed or added. Thanks!