Tennessee Cities Look to Ban Electric Scooters Due to Safety Risk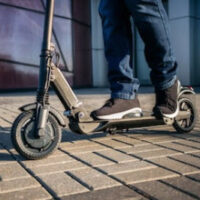 Electric scooters have become a common sight in major cities in Tennessee and around the country in recent years. Scooter companies make it easy for customers to rent the devices using a smartphone app. But the rapid proliferation of electric scooters has also led to concerns about the risk of personal injury, both to scooter users and others who use public roadways and sidewalks.
Nashville Mayor: "Experiment With Scooters Is Not Working for Our Residents."
In May 2019, a 26-year-old Nashville man died while operating an electric scooter. According to the Tennessean, the decedent "received life-threatening injuries after being struck by an SUV" and died three days later. Eyewitnesses told police the decedent made an improper left turn "into the roadway from the sidewalk" and directly into the SUV's path.
As it turned out, the decedent had been drinking just before the fatal accident. Toxicology reports determined the decedent's blood alcohol content was 0.198 percent, more than twice the legal limit for drunk driving in Tennessee. Police blamed the decedent for the accident and said no charges would be filed against the SUV driver.
In the wake of this accident, however, Nashville officials took the first steps towards possibly banning electric scooters in the city altogether. On May 23, Mayor David Briley sent a letter to seven scooter companies currently operating in the city. In a statement released on social media regarding the letter, Briley said, "After more than a year on our streets, Nashville's experiment with scooters is not working for our residents."
Briley's letter further explained that the Nashville Fire Department has "responded to 43 scooter injury calls in the month of April alone." And while the City previously adopted ordinances to ensure the safe usage of electric scooters, these rules are "violated many times daily," and the mayor said the Metropolitan Government "simply does not have the resources to adequately address all of the problems through enforcement."
As a result, Briley said he would ask city officials to draft legislation banning the further use of electric scooters in Nashville, unless the scooter companies themselves presented a proposal to address his safety concerns. Briley gave the electric scooter operators 30 days from the date of his May 23 letter to respond.
And Nashville is not the only Tennessee city prepared to take such steps. On June 25, News Channel 9 in Chattanooga reported that city's council "took major steps in placing a temporary ban," also in response to the fatal Nashville accident.
Do You Need Advice from a Nashville Personal Injury Lawyer?
Even where electric scooters remain legal, operators may still be held legally liable for injuries caused to third parties. If a scooter user is negligent and collides with a pedestrian, for example, the latter may sustain serious injuries.
If you find yourself in such a position and need to speak with a qualified Nashville personal injury lawyer about your legal options, contact the offices of Fox, Farley, Willis & Burnette, today.
Sources:
twitter.com/MayorBriley/status/1131661212264083461
tennessean.com/story/news/2019/06/21/nashville-scooter-rider-brady-gaulke-killed-had-high-alcohol-blood-level-police-says/1522338001/
newschannel9.com/news/local/chattanooga-takes-major-steps-in-temporarily-banning-electric-scooters
https://www.foxandfarleylaw.com/tn-court-of-appeals-revives-medical-malpractice-lawsuit/