Teenage Motorcyclist Dies in Accident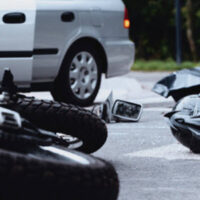 Cocke County, TN (July 14, 2020) A 15-year-old was killed on July 14 after a single vehicle accident that occurred on Caney Creek Road. The motorcycle accident occurred shortly before 8:30 p.m. and several responders were promptly dispatched to the 400 block of Caney Creek. On arrival, law enforcement learned that the motorcyclist was traveling on Caney Creek Road when a large dog ran across the motorcyclist's path. The motorcyclist collided with the dog and subsequently lost control of his vehicle. Following the accident, the motorcyclist was transported to UT Medical Center, where he later died from his injuries. The motorcyclist was determined to have been wearing a helmet at the time of the accident.
The Role of Tennessee's Leash Law
Tennessee law prohibits any dog from being off the least or "at large", regardless of whether the animal is on private or public property. The law was established to avoid injuries to individuals who do not own the dog. The law was also created to keep dogs safe from ending up in motor vehicle accidents.
A limited group of dogs are exempt from the leash log, including confined dogs, dogs protecting themselves from their own or someone else, dogs that injured a person who was on the owner's property without permission, hunting dogs in the middle of a hunt, police dogs, and working dogs.
Contact a Seasoned Motorcycle Accident Lawyer
If you've been left facing lost wages, large medical debt, or other complications following a Tennessee accident, remember you are not alone. An experienced car accident attorney can help you obtain the compensation you deserve. Contact Fox, Farley, Willis & Burnette today.
Note: This post was written based on available resources, news stories, and online reports about this incident. As is often the case with fast breaking news, there is always the risk that some details are still being shared and uncovered. Please contact us if you notice any information that should be changed or added. Thanks!