SUV Rolls Over on Erwin Highway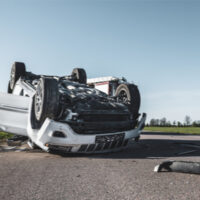 Greenville, TN (October 17, 2020) The driver of a Toyota 4Runner was fortunately not injured on October 17th after his vehicle hit a ditch and rolled over in the 3100 block of Erwin Highway. Additional details about the accident including what caused the collision still remain uncertain.
The National Highway Traffic Safety Administration reports that rollovers have a higher fatality rate than any other type of motor vehicle crash. Of the approximately 9.1 million passenger vehicle accidents that occurred in 2010, only 2.1% of these accidents resulted in rollovers. While rollovers represented a small number of accidents, these crashes resulted in approximately 35% of all deaths from passenger vehicle accidents. Any passenger vehicle has the capacity to rollover. Sports utility vehicles as well as other taller and narrower vehicles, however, are much more susceptible to rolling over. This is because these vehicles are more top-heavy and have a higher center of gravity. When top-heavy vehicles round curves, the gravity shift can disrupt a vehicle so substantially as to cause a rollover. One of the best steps that motorists can take to reduce the risk of ending up in a rollover accident is to slow down when navigating curves.
Contact an Experienced Tennessee Accident Attorney                
When rollover accidents occur in Tennessee, it can be confusing to decide how to best proceed. One of the best steps that you can take if your crash was caused by someone else is to promptly retain the assistance of an experienced attorney. Contact Fox, Farley, Willis & Burnette today. During a free case evaluation, one of our attorneys can review your available options to pursue compensation.
Note: This post was written based on available resources, news stories, and online reports about this incident. As is often the case with fast breaking news, there is always the risk that some details are still being shared and uncovered. Please contact us if you notice any information that should be changed or added. Thanks!