Signal Mountain Man Killed in Motorcycle Accident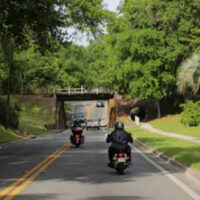 Signal Mountain, TN (August 18, 2020) Law enforcement is investigating an accident that occurred on August 18th on Shoal Creek Road and resulted in the death of a Signal Mountain motorcyclist. Additional details about how the accident occurred are still under investigation.
The Insurance Information Institute found in 2017 that 5,172 motorcyclists died in motorcycle accidents. This number means that motorcyclists are 27 times more likely than passenger vehicle occupants to die in accidents for each vehicle mile traveled.
Tips to Stay Safe While Motorcycle Riding 
Some of the critical safety steps that you should remember when riding a motorcycle include:
Always wear a helmet, which greatly reduces the risk of serious head injuries
Wear other appropriate motorcycle gear including boots and gloves
Remember to follow all traffic regulations, including the speed limit and stop signs
Drive defensively, which means never expecting other motorists to behave in a certain way
Never combine alcohol or drug use with motorcycle riding
Each time before riding, remember to check the motorcycle's tires, engine, and lights to make sure they are all in good working order
After mounting the motorcycle, examine the vehicle's clutch and throttle, mirrors, and brakes

Speak with an Experienced Knoxville Car Crash Attorney 
If you or a loved one has been injured in a motorcycle accident and someone else is to blame, you should not hesitate to speak with a knowledgeable attorney at Fox, Farley, Willis & Burnette. Contact us today so that we can discuss your available options during a free case evaluation. 
Note: This post was written based on available resources, news stories, and online reports about this incident. As is often the case with fast breaking news, there is always the risk that some details are still being shared and uncovered. Please contact us if you notice any information that should be changed or added. Thanks!